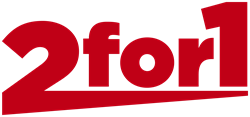 The sharing capabilities introduced with Android 10 will benefit both consumers and businesses.
PROVO, Utah (PRWEB) September 04, 2019
2for1 released a new app update yesterday with full support of Android's latest operating system, Android 10. The consumer savings platform introduced new features including improved sharing capabilities, light and dark theme (mode), gestural navigation, and other enhanced options. 2for1's look and feel was redesigned entirely with more inviting colors and a cleaner design, creating a more pleasant user experience overall.
The 2for1 app has embraced the new features found in Android 10, including the software's new and improved sharing capabilities. With Android 10, using the "share this offer" button will allow users to share offers directly to people they know or through popular applications they frequent.
"The sharing capabilities introduced with Android 10 will benefit both consumers and businesses," said Davd Bruner, 2for1's CEO. "When a business releases a new offer, users can easily share this with friends and family with just the click of a button."
The 2for1 app has integrated the new day and night themes (dark mode) in Android 10 by creating a design that is compatible with both modes. Whether users choose to toggle between the two themes manually or enable an automatic rotation based on the time of day, the app will follow the changes seamlessly. This optional new feature will reduce power usage and improve visibility for users.
Android 10 introduced gestural navigation to the platform, making navigating the app easier. When enabled, a quick swipe will bring users back to their previous screen and another swipe will take them back to the home screen. This and many other Android 10 features can be toggled on and off by the user, and the 2for1 app has been designed to respond to those changes smoothly. When gestural navigation is disabled, users will continue to have access to the original three-button navigation.
2for1 has partnered with over 2,000 businesses to provide thousands of discounts to local communities. The mobile app is free to download and free to use. While it acts as a platform of savings for consumers, it also helps businesses to acquire new customers and strengthen their relationship with existing customers.
2for1 is committed to continually improving the app interface with new features and updates as they become available. Users can be assured the app will always be optimized with the latest software and operating system for the best user experience.
The new version is available on the Google Play Store for free. A media kit is available on our website including high-res app icons and screenshots.
About 2for1: 2for1 connects consumers and local businesses through a location-based mobile app offering deals on products, services, and experiences. While users are receiving the best deals, businesses are acquiring relationships with new customers and increased loyalty among existing customers. Founded by David Bruner in 2017, it has now grown to over 100,000 users and 2,700 locations across Utah, Colorado, Southern California, and Las Vegas.