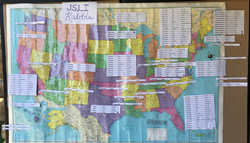 The afternoon included worship, time for sharing and networking as well as 5 well-crafted presentations and being online allowed participants to attend as they could either for the entire retreat or only a portion.
NEW YORK (PRWEB) March 11, 2020
Jewish Spiritual Leaders' Institute (JSLI) and Rabbi Steve Blane continues to make history with its innovative approach to a virtual school. On March 1st it held it's second online reunion for alumni and students. JSLI classes are all online and alumni hail from North America, Europe, Australia, Israel and Japan making an in-face reunion costly and challenging for folks to attend.
Last year Rabbi Steve Blane, Founder and Dean, noted, "Why not an online reunion.? Virtual is the way of the future and has worked well for our to date 150+ ordained Rabbis and Cantors." Always a visionary Blane founded JSLI and the online synagogue, Sim Shalom, after serving in brick and mortar congregations for years. He realized the real unmet need in the Jewish world and developed JSLI as a pragmatic approach to training clergy to serve interfaith and unaffiliated Jews.
The afternoon included worship, time for sharing and networking as well as 5 well-crafted presentations: Rabbi Craig Mayers (Florida) presented "Al HaTorah: Great Jewish Torah Commentators Through the Ages" from a 2-part series he is offering to his congregation. Rabbi Craig is the consummate teacher and his congregation as well as students of JSLI always enjoy his pearls. Rabbi Steve (Dean and Founder of JSLI) presented How to Build a Website in 45 minutes. Rabbi Steve loves to share his knowledge about one of his favorite topics – the internet, online and websites! Rabbi Daniel Betzel (Ohio) presented "Professional Rabbinic Development--or--Semikhah was just the Beginning. How do we continue to grow as both Rabbis and individuals after Semikhah? Together we will explore how we can build on what we received from JSLI to advance our Leadership, Competency, and Professional Skills." Rabbi Daniel shared his struggles and successes as he continues to develop and grow his Rabbinate in the Diaspora aka Columbus, Ohio. Rabbi Jordania Goldberg (Nevada) presented "A Journey Through the Tree of Life for Self Care" that included information from her newly published book: KSTechnique: Healing the World One Person at a Time. Sara Shonfeld (New York) presented "Learning through Music and Rhythm, stories, dramatic play. How to engage children to enjoy learning about Judaism. "
Many attended for the entire afternoon revamping and revising their websites in the moment while others dropped in and out - another welcome feature of an online event. Rabbi Blane was pleased with the turnout as well as the reason some could not attend - they were busy working to "repair the world" Tikuun Olam in their communities.
ABOUT SIM SHALOM AND JSLI
Sim Shalom is an interactive online Jewish Universalist synagogue which is liberal in thought and traditional in liturgy. Created in 2009 by Rabbi Steven Blane on Manhattan's Upper West Side, Sim Shalom offers a means of connecting the unconnected. Rabbi Blane leads accessible and short Shabbat services every Friday night using a virtual interface and additionally Sim Shalom provides online education programs, conversion and life-cycle ceremonies along with weeknight services at 7:00PM EST led by Rabbis and students of this online community. For the High Holidays, Sim Shalom goes live at the Bitter End in NYC with jazz infused musical services.
Rabbi Blane is also the Founder and Director of the Jewish Spiritual Leader's Institute,
the online professional rabbinical program and a Founder of the Union of Jewish Universalist Communities (http://www.ujuc.org) which is based on the doctrine of Jewish Universalism.
Sim Shalom, a non profit 501 © (3) tax-exempt organization, nurtures a Jewish connection through its mission of innovative services, creative education and dynamic outreach to the global community. For more information visit http://www.simshalom.com or call 201-338-0165.