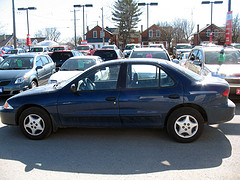 We now able to offer a wider selection of the 1990 and up editions for Buick, Chevrolet and Oldsmobile vehicles to preowned inventory buyers
Atlanta, GA (PRWEB) August 18, 2015
The PreownedEngines.com company is known in North America for helping to fulfill the demand for classic vehicle components at affordable prices. The company is now able to provide used 3.1L engines for Buick Regal cars from its revised V6 inventory now located on its website. Information about sale pricing and other data can be obtained at http://preownedengines.com/used-buick-regal-3-1-engine.
The support for classic Buick vehicles is expected to provide a new resource for gasoline vehicle mechanics and owners of vehicles who are unable to connect with a local retailer. The current supply of used V6 3.1L engines has been acquired through a new partnership with regional distributors of secondary market General Motors produced inventory.
"We now able to offer a wider selection of the 1990 and up editions for Buick, Chevrolet and Oldsmobile vehicles to preowned inventory buyers," said a salesman at the PreownedEngines.com company.
The current supply of vehicle motors that can be explored or purchased from the GM inventory presented on the POE website is now shipping with a revised warranty plan. All people purchasing the 6-cylinder builds in stock will be able to obtain a 24-month warranty at no additional cost at the time of order checkout.
"Every order that is sourced through our website is eligible for the expanded warranty coverage that normally would require additional payments at some junk yards," said the salesman.
The POE company telephone system is currently available to help process orders for used Buick engines or other brands in stock. Consumers can call 1-866-320-1065 to speak directly with a customer support manager.
About PreownedEngines.com
The PreownedEngines.com company is one North American vehicle parts resource to locate used condition automobile motors for a discount price. The company lists inventory from its national partners that can be quoted in price or purchased in real-time. The PreownedEngines.com company adjusts the listed inventory that appears on its website several times daily to ensure accuracy for consumers.