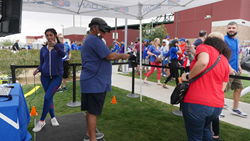 Customers can learn about your brand without even knowing it. All they know is that they're having a great VR experience.
CHICAGO (PRWEB) June 10, 2019
Ballpark lavatories aren't usually classified as sports icons. But thanks to a new virtual reality installation from 321 Next Reality and the Sloan Valve Company, the men's rooms at Sloan Park in Mesa, AZ, are hitting home runs. Interactive virtual reality has been making headlines over the past few years, but that medium wasn't specifically what Sloan Valve Company had in mind when they decided they wanted to enhance the customer experience at their namesake stadium, home of the Chicago Cubs spring training program. 321 Next Reality, a Chicago based VR, AR, and mixed reality development company, and Sloan's partner in a wide variety of visual projects, recommended the custom VR activation as a way to create a branded and educational yet fun tailgating experience.
View sample videos on the 321 Next Reality YouTube Page
View sample video - virtual reality Cubs experience set up at Sloan Park - YouTube Video
When you think of baseball and virtual reality, or even VR for gaming, training, or education, the men's room might not be what immediately comes to mind. But Sloan Valve Company has a well-earned reputation for creating water-efficient commercial bathroom products. A lavatory-based virtual reality interactive game style experience that highlights the Sloan brand, therefore, makes a lot of sense. The final result is a kind of immersive reality game called 'The Cleaner'. The objective of the VR game is to clean a restroom, which is littered with typical baseball-related objects, such as ticket stubs, popcorn, hot dog wrappers, beer bottles, and so on. Players have three minutes to get the restroom as clean as possible, with the results tracked on leaderboards.
"This project had a tight timeline, but it was a lot of fun," said Mark Smith of 321 Next Reality. "In an expedited time frame, we were able to go from concept to execution, and we're thrilled with the results. Creating a VR tailgating experience like The Cleaner can really engage people in a fun and creative way." Smith went on to explain that The Cleaner VR experience allowed 321 Next Reality to put the spotlight on the Sloan brand, adding VR Sloan products into the immersive display gameplay.
View sample video - 360 Video of VR set up at Sloan Park Chicago Cubs - YouTube Video
Sloan and the Chicago Cubs are not the only big brands makes moves into virtual reality marketing. Technology such as the Oculus Rift and HT Vive have made VR devices and VR headsets affordable and practical. With a history of dazzling 3D content creation, 321 Next Reality found itself in an excellent position to deliver high end interactive displays and media to clients who wanted to wow their customers. Virtual reality is still a relatively novel technology, able to stand out in a crowded media landscape. That makes virtual reality, augmented reality, and any mixed reality development a vital way for brands to reach consumers.
The Cleaner debuted at the first Chicago Cubs home game (on the Spring Training calendar) played at Sloan Park, against the Milwaukee Brewers. The VR set-up at Sloan Park has been such a stellar success that the field has made it a permanent feature. Anyone who wanted to take a turn at The Cleaner visited the Sloan Park Tailgate area. How clean you'll be able to get that virtual restroom in your three minutes may depend on your cleaning--or your video game--skill. But you'll certainly have a newfound appreciation for the park's cleaning staff--and for the Sloan commercial bathroom products found in those restrooms--once you're finished.
"That's the beauty of VR and AR. You can make learning and brand education fun," Smith said. "Customers can learn and be exposed to a brand in a fun and unique way. All they know is that they're having a great VR experience." That kind of traction is difficult for brands to come by in today's crowded media landscape. But interactive virtual reality can make an immediate impression. It's been working for Sloan Park and for the Chicago Cubs. More brands are investing in virtual reality media every day.
About 321 Next Reality: Founded in Chicago, IL, 321 Next Reality is the Midwest's premiere company providing virtual reality, augmented reality, mixed reality, and other experiential digital activations for corporate, training, education, and creative clients. 321 Next Reality works with corporate customers on projects that vary from live show integration to brand launches, promotional events, or even real world gaming.
Located in Chicago
Cinespace Chicago Film Studios
321 Next Reality
2558 W. 16th Street, 5th Floor
Chicago, IL 60608
To get in touch with the team at 321 Next Reality, contact us by email or phone.
Main Chicago Offices: 773-542-0730
Info(at)321NextReality.com
Mark(at)321NextReality.com
321 Next Reality is a Chicago based company providing Virtual Reality, Augmented Reality, Mixed Reality, and other Experiential Digital Activations for corporate, training, education, and creative clients.
[http://www.321NextReality.com
Contact us at info(at)321NextReality.com
321 Next Reality Capabilities:
Virtual Reality (VR)
Augmented Reality (AR)
Mixed Reality (MR)
XR
Immersive Experiences
180 Videos
360 Videos
Application Design
UI Integration
Content for Mixed Reality
3D Projection Mapping
3D Holographic Production
3D Content Production
Temporary and Permanent Installation
Custom Interactive Design Capabilities
Consultation on all aspects of Interactive Processes
In-House 2D and 3D Animation Team
Full Chicago Studio Location
Asset Reconfiguration for Brand Consistency
On-Site Setup, Mapping, and Event Operation
Full Production Crew
180-degree Video Production
360-degree Video Production
Agency Consulting
Industries Embracing Virtual Reality: training, marketing, education, entertainment, branding, business, learning, development, hospitality, real estate, healthcare, manufacturing, medical, gaming, architecture, and more.
For more information, please visit http://www.321NextReality.com
or call 773-542-0730.