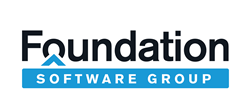 "The centralized intelligence platform that Foundation provides will enable us to gain efficiencies of scale across practices and departments, providing a single knowledge repository and configurable application that spans client and matter lifecycles."
CHICAGO (PRWEB) January 21, 2020
Foundation Software Group, developer of the first Firm Intelligence platform, announced today that one third of the Am Law 100 have now selected Foundation as their strategic solution for experience management, expertise location, and client development. These firms, including Arnold & Porter, Baker Donelson, Davis Wright Tremaine, Hogan Lovells, and Winston & Strawn, provide evidence of continued market momentum for Foundation, the legal profession's leading firm intelligence and experience management solution.
The Foundation Firm Intelligence platform provides a single source of truth for law firms, enabling them to transform their disparate data about clients, matters, lawyers, and parties into usable and actionable information. Foundation includes integrated applications for Experience, Expertise, and Client Management to easily leverage firm knowledge to improve the client experience, grow business, and gain insight into both the business and practice of law.
"Efficient access to a holistic view of firm data is crucial for thriving in today's evolving legal environment, whether it's used to rapidly find answers to lawyers' questions, provide clients with broader information regarding their matters, or improve the effectiveness of our legal and administrative teams," according to David Rueff, Chief Client Solutions Group Officer at Baker Donelson. "The centralized intelligence platform that Foundation provides will enable us to gain efficiencies of scale across practices and departments, providing a single knowledge repository and configurable application that spans client and matter lifecycles. Foundation's agile approach will empower our teams to better profile our clients and matters, predict outcomes, and improve our services for clients."
"We continue to see firms that have been chasing an elusive, 360° view of their clients and matters to give them a competitive advantage," added Barry Solomon, Executive Vice President of Foundation Software Group. "But you can't get there when your data is siloed across systems. A single data platform is required to manage firm intelligence in order to get the actionable insights required for everything from driving business development to making enterprise search more effective. Firms have finally found that capability in Foundation, and that's what's driving our growth."
Foundation passively collects information from systems like time and billing, new matter intake, CRM, HR, and external sources and provides enrichment tools like AI-enhanced matter profiling and triggered surveys, to provide an optimized, comprehensive view of a firm's intelligence. Powerful analytics provide key insights into clients, matters, lawyers, and third parties, informing business and client development strategies and driving results.
About Foundation Software Group
Foundation Software Group enables large law firms to transform their disparate data about clients, matters, people, and parties into usable and actionable information. Its Firm Intelligence platform includes integrated applications for Experience Management, Expertise Location, and Client Management — leveraging firm knowledge to win new business, improve client service, and gain insight into both the business and practice of law. Foundation is led by an accomplished team of professionals with deep experience in successful law firm application development.