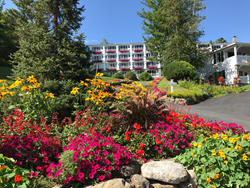 "AAA is proud to have Mirror Lake Inn and The View – two dedicated establishments that are committed to exceeding guests' expectations at providing premier travel experiences – as Four Diamond recipients." - Eric Stigberg, AAA Northway
LAKE PLACID, N.Y. (PRWEB) June 20, 2019
The only AAA Four Diamond lodging and dining combination in Lake Placid officially extended its long-running designation Tuesday (June 18) as the Mirror Lake Inn Resort and Spa received the prestigious honor for the 35th consecutive year, and its' accompanying restaurant, The View, collected the same award for the 12th straight year.
Eric Stigberg, Manager of Marketing and Public and Government Affairs for AAA Northway, presented the two Four Diamond plaques to resort owners Ed and Lisa Weibrecht in the Wikoff Room, named after the hotel's original Lake Placid owners. It followed the annual summer staff meeting before over 200 employees, supervisors and managers.
"This is a truly special place, one you should all be proud of," opened Stigberg. "AAA Four Diamond is assigned to lodging properties that consistently deliver premier experiences, complete with superior personal service, first class amenities and impressive surroundings. The hallmark of restaurants at this level are distinctive fine dining experiences with complex menus skillfully served in an upscale ambiance."
Stigberg announced the designations for lodging and dining on behalf of AAA and its 61 million members in North America.
"AAA is proud to have Mirror Lake Inn and The View – two dedicated establishments that are committed to exceeding guests' expectations at providing premier travel experiences – as Four Diamond recipients. Representing the upper echelon of the hospitality industry, Mirror Lake Inn and The View are, once again, among the elite group of Four Diamond winners."
The annual event highlighted the exclusivity enjoyed by this iconic resort property:

Of 27,000 AAA rated properties, only 6.3% are rated Four Diamond.
Of 32,000 AAA rated restaurants, only 2.1% are rated Four Diamond.
Only 161 properties have maintained the Four Diamond Rating for 25 or more consecutive years, putting the Mirror Lake Inn in exclusive company.
Mirror Lake Inn has maintained the Four Diamond Rating for 35 consecutive years. Only one other property in New York State has held the Four Diamond rating longer: The Carlyle in New York City for 43 years, while The Hotel Plaza Athenee, also in New York City, is tied with Mirror Lake Inn at 35 years. Outside of New York City, the Mirror Lake Inn stands alone in this category of AAA achievement in New York State.
Prior to the awards, Ed Weibrecht addressed the staff, particularly welcoming new hires that recently started their employment for the summer and fall seasons. He introduced all the managers and supervisors, but in typical Weibrecht fashion, he deflected the spotlight to the staff. They are the Inn's gatekeepers who interact with hotel guests.
"We are in the luxury end of the market," he commented. "Therefore, we are supposed to provide a luxury experience. Certainly, our physical plant is beautiful, but that's not enough, so the way you make it warm and special is through yourself. A house isn't a home until somebody lives in it and puts their love in it. Well, this place doesn't become special until all of you make it special."
The Inn's longtime owner, since 1976, complimented the staff on creating a home away from home. As part of this, he encouraged the employees to engage the guests, "making them feel welcomed and showing them how important they are."
Weibrecht also took time to compliment the staff through recent guest comment cards.
"Friendly, polite, helpful. Smiles on faces. All made us feel welcomed and special."
"Everyone from the front desk to the housekeeper was lovely. We could not have asked for anything more."
"Excellent staff was superb and helpful."
"Had a great time. All of the staff were extremely knowledgeable and super friendly."
"Wonderful and comfortable. Engaging staff."
"The hotel is clean and filled with wonderful staff."
The staff meeting concluded with Chris Jarvis, Director of Rooms, reminding the attendees to be prepared for a busy season that will include two weeks of horse shows, multiple lacrosse tournaments, rugby action and general summer tourism.
Said Jarvis, "It's about to get very busy seemingly overnight."
-MLI-
About the Mirror Lake Inn
The AAA Four Diamond Mirror Lake Inn Resort and Spa is a luxury lakefront resort offering an authentic Adirondack experience. The Inn, rated Four Diamond for 35 consecutive years, offers both Four Diamond world-class cuisine and casual dining options, with impeccable service amid awe-inspiring views. Only one other property in New York State (located in Manhattan), has maintained the Four Diamond designation longer than Mirror Lake Inn. It is the only property in Lake Placid that combines Four Diamond lodging and dining. The Inn's renowned Lake Placid spa pampers the body and refreshes the mind with a comprehensive menu of services. The Inn is conveniently located one block from the restaurants and shops on Main Street in Lake Placid.