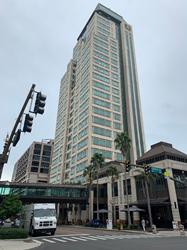 "Not only is this the logical next step in our growth strategy, but it also allows us to provide additional resources to better serve our clients."
ST. PETERSBURG, Fla. (PRWEB) November 20, 2019
360 Advanced, an established cybersecurity and compliance firm, proudly announces the recent expansion of their St. Petersburg, FL office.
"We are excited to accommodate the rapid growth of our company and continue adding high-level talent to our team," explained Dan Collins, Chief Executive Officer of 360 Advanced. "Not only is this the logical next step in our growth strategy, but it also allows us to provide additional resources to better serve our clients."
An emerging technology hub, Tampa Bay is home to some of the region's most experienced cybersecurity talent. With multiple universities and professional training opportunities, it serves as an ideal headquarters for the growing company. The expansion will allow 360 Advanced to add professional services staff, as well as resources to provide a higher level of client support and quality control.
"Expanding our team will help us advance our mission of providing seamless, integrated cybersecurity services, while helping our clients stay at the forefront of industry changes," explained Collins.
The new space includes multiple collaborative areas, allowing associates to seamlessly complete multi-service engagements.
"With our project teams working hand-in-hand, we're able to provide our clients with a more consistent experience," Collins continued. "By working more closely with each other, we're able to reduce duplicate efforts and make projects much easier on our clients. This has been a major area of focus since the inception of our firm, and we're looking forward to sustaining these efforts in 2020 and beyond."
About 360 Advanced
360 Advanced is "Making Better Businesses" through their national Cybersecurity and Compliance offerings. Services provided include CSA Star, SOC 1, SOC 2, SOC 3, SOC for Cybersecurity, ISO 27001, PCI-DSS, HIPAA/HITECH, HITRUST CSF, Microsoft Vendor Policy, Penetration Testing, GDPR, and more. In certain states, 360 Advanced may operate under the name of Hiestand, Brand, Loughran, P.A. to meet AICPA requirements. To learn more about 360 Advanced, visit http://www.360advanced.com.