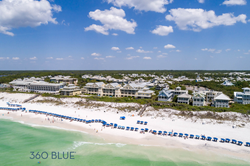 We are excited to have an on-site presence in the WaterColor community along 30A
SANTA ROSA BEACH, Fla. (PRWEB) November 05, 2018
360 Blue, the largest luxury vacation rental company along 30A, announces the addition of a new WaterColor office location to accommodate its growing workforce.
Founded 11 years ago with one employee, 360 Blue has grown to 135 full-time, year-round employees, and 550 managed properties. The new WaterColor office will be the third office location for 360 Blue, which currently has offices in Santa Rosa Beach and WaterSound.
"We are excited to have an on-site presence in the WaterColor community along 30A. We are proud to continue to grow our business along the Emerald Coast and credit our success to the amazing team that makes up 360 Blue. We are confident our office expansion will allow us to better serve our guests and owners in the WaterColor and neighboring communities." said Ashley Horsley, CEO and Co-Owner of 360 Blue.
The new 1,200 sq foot office space is located in the heart of the WaterColor Town Center at 701 E County Highway 30A, Unit 201B and is set to open with full-time, year-round staffing, in mid-November.