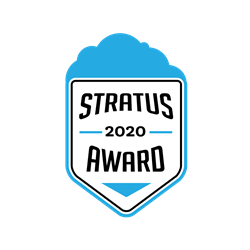 PHILADELPHIA (PRWEB) December 08, 2020
Today the Business Intelligence Group is proud to announce the winners of the 2020 Stratus Awards for Cloud Computing by recognizing 38 companies, services, and executives deemed leaders in the cloud.
"We now rely on the cloud for everything from entertainment to productivity, so we are proud to recognize all of our winners," said Maria Jimenez, Chief Nominations Officer of Business Intelligence Group. "Each and every one is helping in their own way to make our lives richer everyday. We are honored and proud to reward these leaders in business."
The 2020 Stratus Award Winners are:
Top Executive
Rowan Trollope, CEO, Five9 - Cloud Executive
Top Companies
ADP - Software as a Service
AppNeta - Software as a Service
Automation Anywhere - Artificial Intelligence
BitNinja Technologies - Security
Cloudticity - Managed Service Provider
DataTheorem - Security
Fictiv - Cloud Disruptor
Forward Networks - Platform as a Service
Green Mountain - Green Company
Green Mountain - Hosting Provider
IFS - Mobile Cloud Provider
Informatica - Cloud Disruptor
Information Builders (ibi) - Cloud Integrator
Ingram Micro - Cloud Company
InVision - Software as a Service
ManagedMethods - Cloud Security Service
Matterport - Software as a Service
McAfee - Cloud Security Service
MIT Lincoln Laboratory - Security
Navisite - Managed Service Provider
NetApp - Hybrid Cloud Provider
Netdata - Cloud Disruptor
Ordway - Software as a Service
PacketFabric - Platform as a Service
Planful - Cloud Company
Rancher Labs - Kubernetes
Red Hat - Infrastructure as a Service
Red Hat - Kubernetes
RFPIO, Inc. - Cloud Collaboration
Rockwell Automation - IoT
Saykara - Artificial Intelligence
Stack Overflow - Cloud Collaboration
UneeQ - Cloud Company
WalkMe - Software as a Service
Wolters Kluwer Tax & Accounting - Cloud Collaboration
Wolters Kluwer Tax & Accounting - Software as a Service
ZE PowerGroup Inc. - Private Cloud Provider
The Stratus Awards panel of judges also recommended that the following companies and services be recognized as "Finalists" for their documented performances. Stratus Award Finalists include: Altvia, Decision Lens, ECI Software Solutions, Kustomer, Spireon, Starkey, ThoughtSpot, Volterra and WANdisco.
About Business Intelligence Group
The Business Intelligence Group was founded with the mission of recognizing true talent and superior performance in the business world. Unlike other industry award programs, business executives—those with experience and knowledge—judge the programs. The organization's proprietary and unique scoring system selectively measures performance across multiple business domains and then rewards those companies whose achievements stand above those of their peers.