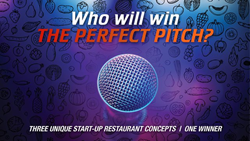 Be yourself and tell your story. … It's a room of people driven to deliver great experiences.
LOUISVILLE, Ky. (PRWEB) August 29, 2018
Take three unique start-up restaurant concepts, add in four passionate leaders, and top it off with three industry insiders serving as advisers, and you have the recipe for this year's Perfect Pitch — the annual contest we host during each Fast Casual Executive Summit to reveal three of the industry's hottest new brands. This year's Summit is Oct. 7-9 in Seattle with the Perfect Pitch kicking things off on day three.
After sifting through tons of applicants vying for stage time, we chose:
GoPoké — "A taste of Hawaii in Seattle."

Website: gopokeseattle.com
Founded: 2016
HQ: Seattle
Owner: Bayley Le
Number of locations: 1
About: Built by three brothers from Hawaii, it serves authentic Hawaiian poke and desserts in the form of fresh Ahi, Salmon, Tako, and Tofu in the form of ready-to-eat rice/salad bowls, pokerittos and by the pound. It also serves shave ice, dole whip and tropical homemade drinks.
Salads UP — "The journey continues, come in and say S'UP!"

Website: saladsup.com
Founded: 2015
HQ: Michigan
Owner: Robby Mayer and Max Steir
Numberof locations: 3
About: Created by two University of Michigan graduates looking to bring healthier options to college towns and a brand that resonated with the unique lifestyle of a college student, Salads UP opened in 2015, in Ann Arbor, Michigan on the University of Michigan campus The menu consists of signature and customizable salads and warm grain bowls as well as smoothies and signature juice blends. It now has two other locations in Madison, Wisconsin on the University of Wisconsin campus.
Sugapeach Chicken & Fish Fry — "We want to be the first National Soul Food Restaurant."

Website: sugapeach.com
Founded: 2016
HQ: North Liberty, Iowa
Owner: Chad Simmons and Iowa Soul Food Company
Number of locations: 1
About: Founded by Carol "Sweetiepie" Cater-Simmons, Sugapeach's soul food brand offers fish, chicken, baked macaroni and cheese, mashed potatoes and gravy, cornbread and collard greens. It offers more than just comfort food, however. It reminds customers of the people they love and the good times they had with them.
The pitchers will address not only the Summit's attendees but also a panel of advisers who will give them advice about how to grow their concepts. It's our "nicer" version of "Shark Tank," which means it's all about helping small but innovative concepts get off the ground. The audience members will vote on their favorite pitch, and the winner will receive bragging rights, of course, and free entry into next year's Fast Casual Executive Summit.
"I am participating in Perfect Pitch to show the leaders and innovators of the ever-growing fast casual industry why Salads UP is well positioned to scale," Max Steir, said in an interview with FastCasual. "Furthermore, I want to use this platform to inform as consumers and industry veterans what makes the S'UP brand so special."
Simmons and Le agreed.
"I'm hoping to learn if our strategy will get our brand noticed by larger fast casual companies, Simmons said. Le's goal is to increase exposure while maintaining "consistency and humility through the process."
S'UP — Steir said — is at a critical juncture. Although it has grown to three units in two years, he and Mayer are unsure of the next path.
"We have a multitude of options when it comes to next steps, and each decision we make will be crucial for our company's future. Therefore, I hope to gain insights on the positives, negatives, and potential challenges that come with different growth strategies. Lastly, I am eager to hear opinions on what elements of our company might need improvement to enhance its long-term health."
Last year's winner was Street Shak Caribbean Kitchen in Toronto, owned by Tony and Karen Bradshaw.
"Be yourself and tell your story. … It's a room of people driven to deliver great experiences. There are long days and of course a roller coaster of emotions because there are constant demands and this business is so personal," Tony said. "It's a craft. It's in our blood. We really just wanted the room to know that despite the ride, we never lose sight of the vision and passion we had before we opened the doors: To celebrate Caribbean food, hospitality, and culture."
Advisers of this year's Perfect Pitch session, sponsored by Lamb Weston, include:
Susie Fogelson, founder of F&Co. and former Food Network marketing executive
Melanie Corey-Ferrini, chief experience officer, Dynamik Space
Register here for the Summit. Early bird pricing is in effect until September 7.
About Networld Media Group
Founded in 2000, Networld Media Group is a leading business-to-business (B2B) global media communications company specializing in digital media, associations and events in the mobile, self-service, digital signage, retail, food service and financial services industries. Online properties include ATMmarketplace.com, BlockchainTechNews.com, DigitalSignageToday.com, FastCasual.com, FoodTruckOperator.com, KioskMarketplace.com, MobilePaymentsToday.com, PizzaMarketplace.com, QSRweb.com, RetailCustomerExperience.com and BiblicalLeadership.com. Networld event properties include the Fast Casual Executive Summit, CONNECT: The Mobile CX Summit, Interactive Customer Experience Summit, Bank Customer Experience Summit and the Restaurant Franchising & Innovation Summit. Networld also operates the ICX Association. Its newest offering, BOOM! Creative, provides clients with digital creative, custom media and brand collateral.
###