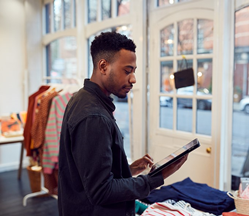 Data must remain secure, relevant and accessible if it is to deliver value.
HOBOKEN, N.J. (PRWEB) January 14, 2021
Messaging Architects, an eMazzanti Technologies Company and data governance consultant, identifies three important benefits of data governance for SMB retailers in a new article on its website. The informative article first relates how small retail businesses depend on data to drive business processes and stay competitive.
The author then presents the benefits of effective data governance, including reduced risk, trustworthy, useful data, and improved omni-channel retailing. He asserts that, "data governance holds the key to eliminating siloes by working toward a holistic view of data across multiple platforms and departments."
"Data must remain secure, relevant and accessible if it is to deliver value," stated Greg Smith, Vice President of Services Delivery at Messaging Architects.
Below are a few excerpts from the article, "3 Critical Data Governance Benefits for SMB Retailers."
"Data governance includes interconnected policies, beginning with identifying and categorizing data and determining rules for data retention and archiving. Additionally, a comprehensive data governance policy must ensure cyber security and regulatory compliance. Implementing solid data governance takes careful planning, but it delivers key advantages."
Reduce Risk
"With a comprehensive data governance strategy, businesses meet regulatory requirements while making data available to the right people. Features such as multi-factor authentication, end-to-end data encryption and compliance audits both protect data and preserve customer trust."
Ensure Trustworthy, Useful Data
"In 2019, Experian Data Quality published a study indicating that 95 percent of organizations suffer from the negative impacts of low-quality data. Information that is out-of-date, redundant or incomplete can result in faulty strategy and damage to customer relations."
Improve Omnichannel Retailing
"Data coming into the organization from multiple sources does more than create quality challenges. It also increases the risk of data siloes. For instance, sales departments gather data from POS systems. Marketing harvests data from company websites and social media campaigns. Customer support collects its own customer data related to product issues."
Data Governance Expertise for SMB Retailers
By improving the security, quality and accessibility of information, data governance unlocks data potential. For SMB retailers, this can prove critical to developing and retaining customer relationships, improving business strategy, and reducing risk.
The data governance experts at Messaging Architects stand ready to help retailers implement a data strategy tailored to their needs. They assist with data management, ensuring a single source of truth for the entire organization. They also provide the tools to implement multi-faceted cyber security and monitor compliance.
Look for eMazzanti Technologies at the NRF2021 Virtual Retail's Big Show!
Have you read?
Changing Data Privacy Laws and Retail Consumer Trust
Automating Data Governance to Stay Ahead of Exploding Data Volume
About Messaging Architects
Messaging Architects specializes in effectively managing and securing an organization's most precious asset, its information. With over 20 years of information management and technology consulting experience, the Messaging Architects team has provided corporations, educational intuitions, health care facilities and nonprofits with methodologies, procedures and technology to keep their data organized, compliant and secure.
About eMazzanti Technologies
eMazzanti's team of trained, certified IT experts rapidly deliver increased revenue growth, data security and productivity for clients ranging from law firms to high-end global retailers, expertly providing advanced retail and payment technology, digital marketing services, cloud and mobile solutions, multi-site implementations, 24×7 outsourced network management, remote monitoring and support.
eMazzanti has made the Inc. 5000 list 9X, is a 4X Microsoft Partner of the Year, the #1 ranked NYC area MSP, NJ Business of the Year and 5X WatchGuard Partner of the Year! Contact: 1-866-362-9926, info@emazzanti.net or http://www.emazzanti.net Twitter: @emazzanti Facebook: Facebook.com/emazzantitechnologies.