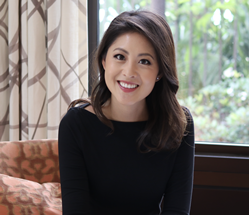 "These free, easy-to-fit-in-your-day sessions will help higher ed leaders become more effective on video."
ONEONTA, N.Y. (PRWEB) September 16, 2020
3 Enrollment Marketing, Inc. (3E) is sponsoring the online "3E Executive Education Series: Leadership Communications and Presentations on Video," on September 23, 24, and 25 from 12 – 1 p.m. ET each day. The free event is designed for higher education executives to increase their confidence and enhance their effectiveness in speaking and presenting online.
"We're committed to building modern marketing for higher ed, and in a world that's become increasingly virtual, we knew we could best serve the industry right now by bringing Jessica Chen, a leader in modern online communication, to higher ed leaders," said James Rogers, 3E CEO.
3E collaborated on this series with Chen, an Emmy and Associated Press Award-winning broadcast journalist.
As founder and CEO of Soulcast Media, a business communications agency, Jessica Chen is a trusted communications advisor to several elite tech leaders in Silicon Valley and Asia. In the three-part series, she will provide practical advice and in-depth expertise. She shares, "Many of us were thrust into this new world of communicating on video. It was not an easy transition, but now that we've adapted, it's time to think about honing our video communications skills so we can more effectively get our message across. It takes a different set of skills to convey presence and engage when online, such as utilizing the camera and tone of voice to improve engagement. I am so excited to take my background as a former tv reporter to teach the art of communicating on video calls."
Topics covered will include:
Wednesday: Executive Presence on Video
Attendees will gain tips on the technical details of setting up a video call to optimize their presence.
Thursday: How to Create Engaging Online Meetings
Participants will learn effective ways to communicate findings and develop a compelling narrative.
Friday: Crafting Presentations via Storytelling
Attendees will learn how to incorporate their experiences into their communications.
These sessions are designed for executive-level administrators. While the topics are intended as a three-part series, attendees can opt to register for one or two sessions, and registration is free. Learn more and register here.
About 3 Enrollment Marketing, Inc.
We are modern marketing built for higher ed. Enrolling a student is challenging—and as marketing channels grow and the technology solutions to manage them multiply, it's not getting any easier. In fact, it can take coordinating up to six vendors to try to build a comprehensive marketing plan. That's insanity. 3E stops the insanity and manages the complexity. We are difference makers.
https://3enrollment.com/
https://twitter.com/3Enrollment
https://www.linkedin.com/company/3enrollment/
About Soulcast Media
Soulcast Media is a premier business communications agency. Our goal is to elevate individual and business performances by teaching the skill of effective communications. Our technique is anchored in the belief that communications requires a holistic approach that considers human behavior, context and tone. It isn't just about what you say, but how you say it so that it can generate the biggest impact.