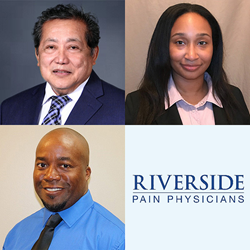 Three additional physicians on staff to provide expert care and interventional pain management treatments for Jacksonville area patients.
JACKSONVILLE, Fla. (PRWEB) October 29, 2018
Riverside Pain Physicians is pleased to welcome three new additions to the pain management specialist team. The following doctors will now be on staff to provide expert care and interventional pain management treatments for Jacksonville area patients:
FRANCISCO JUDILLA, MD
Dr. Judilla specializes in pain medicine and is a board-eligible anesthesiologist with nearly 50 years of experience.
Education/Background:

He graduated from Cebu Institute of Medicine at Velez College in the Philippines
He completed an internship at Saint Vincent Health Center in Erie, PA
He subsequently completed his residency in anesthesiology at Newark Beth Israel Regional Medical Center in Newark, NJ.
He is a member of the Society for Pain Practice Management
In his spare time, Dr. Judilla enjoys gardening, fishing, collecting antiques and attending the local symphony.
KISHA THOMAS, MD
Dr. Kisha Thomas has a special interest in improving function for her patients, frequently incorporating physical therapy and lifestyle modifications into her patient treatment plans.
Education/Background:
She attended college at Grand Valley State University in Michigan, where she completed her pre-med studies
She earned her medical degree from the University of Wisconsin School of Medicine and Public Health
She completed her residency and fellowship training at the Medical College of Wisconsin.
She is a member of the American Society of Anesthesiology and American Society of Interventional Pain Physicians
In her free time, Dr. Thomas enjoys spending time with her family, reading, and traveling.
DOUGLAS E. BOLER, MD
Dr. Boler is a board-certified anesthesiologist and pain management physician who specializes in interventional pain management, treating a variety of pain conditions from herniated & degenerated discs, sciatica, spinal stenosis, fibromyalgia and joint pain.
Education/Background:
He graduated from Southern Illinois University School of Medicine
He interned at Texas Tech University Health Sciences Center
He completed a subsequent residency in anesthesiology at St. Louis University School of Medicine
He recently served as medical director of the National Pain Institute, New Port Richey, FL
Dr. Boler is a U.S. Air Force veteran who speaks English and Spanish, and in his spare time, he enjoys golf and plays several musical instruments.
These experienced physicians join an ever-growing team of compassionate, expert caregivers on staff at Riverside Pain Physicians.
ABOUT RIVERSIDE PAIN PHYSICIANS:
Riverside Pain Physicians specializes in minimally invasive, multidisciplinary pain treatment options to help patients live a pain-free life, utilizing a vast array of approaches to better treat a wide variety of pain conditions.
Jacksonville's leading pain management practice focuses on customized solutions for acute and chronic pain. Their specialists are dedicated to improving quality of life through a comprehensive process of systematic evaluation, diagnosis, and treatment to find the cause and effectively relieve patients' pain.
If you are tired of living with pain and want more information about options for minimizing or eliminating your suffering, contact Riverside Pain Physicians by phone at 904.389.1010 or online at http://www.RiversidePainPhysicians.com to set up a consultation at one of four Jacksonville clinic locations.