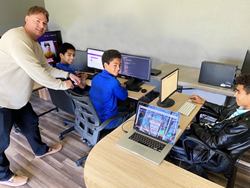 Without their team's commitment and superior guidance our apps (Roku, iOS, Amazon Fire TV) would not be as dynamic.
ABILENE, Texas (PRWEB) March 26, 2020
As schools and businesses across the country are closing down in light of social distancing policies during the COVID-19 (Coronavirus) pandemic, organizations seek ways to enable workers and students to remotely access the video resources necessary for their ongoing training and education.
TvStartup Inc. specializes in video technology solutions that enable anyone to launch their own independent online TV channel and expand audience reach beyond social platforms like YouTube to millions watching on living room TV's.
The technology, created by TvStartup's development team with contributions from the founder's three school-aged sons who have learned to code, is helping organizations and creators reach a wider audience through the use of various devices and apps, including Smart TV platforms such as Roku, Amazon Fire TV, Apple TV, and more. The platform is now being adapted to help schools, churches and other organizations continue education and stay connected remotely during closures caused by the COVID-19 pandemic.
The boys involved (now aged 12, 13, and 15) began learning programming skills 7 years ago, making contributions to the development process behind a number of the platform's available features and have been using their close proximity to the technology world and the lead development team at their father's company as a learning opportunity to advance their education in coding.
As a family business, TvStartup CEO and Founder, Brock Fisher, says he "understands the importance of providing children with consistency and structure, especially during unprecedented times."
He added, "the kids have had a unique opportunity while learning to code to contribute alongside the TvStartup development team to help advance the service's capabilities in providing content creators with greater control over the growth of their online audience and options for easy distribution to connected TV platforms."
School closures could last throughout the rest of the regular school year. During this time, it's imperative that students, congregation members and workers (especially children) can continue to access educational content and stay connected with their organizations with streaming and on-demand video content.
The platform enables organizations to live stream virtual events and share recorded video content in a scheduled or on-demand format through their own Smart TV channels, allowing viewers to enjoy the programming from the comfort of their living rooms on their at-home TV sets.
Students can use their in-home TV sets to watch on-demand educational videos and live broadcasts produced by educators and content creators. This allows organizations to reach their audience on the devices they use most often, giving them a way to enjoy this streaming content directly on their living room TV's.
"The High School Narrative's collaboration with the outstanding staff at TvStartup has generated tremendous success for our company." said Mary Rossignol, Founder & CEO of THSN Media Group, who launched The High School Narrative using the TvStartup platform, a channel aimed at showcasing the stories of high school students across the country. "Without their team's commitment and superior guidance our apps (Roku / iOS / Amazon Fire TV) would not be as dynamic."
Educators and organizations seeking to continue the education of their students and stay connected with their audience impacted by the COVID-19 outbreak can leverage Internet TV solutions to extend their reach and ensure no one gets left behind. Schedule a live demo to learn more.
About TvStartup Inc.
TvStartup is an internet technology company specializing in helping businesses, individuals and organizations start and monetize their own online TV stations on popular platforms like Roku, FireTV, Apple TV and more. Originally founded in 2005 as B&L Enterprise, a satellite and cable consultancy firm, the company now provides an all-in-one video management and distribution platform, allowing users to launch their own independent internet television channels and networks. The platform includes built-in capabilities for live streaming, scheduling linear programming, and creating customized video-on-demand experiences that automatically sync across all connected devices.