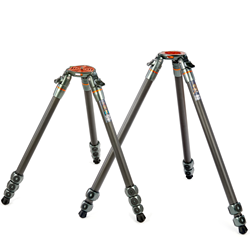 I am delighted to see them finally join our already incredible portfolio of tripods
STAGSDEN, England (PRWEB) October 20, 2020
Continuing to grow on the huge success of the Legends Range, 3 Legged Thing announces two new additional hybrid tripods, Nicky and Tommy. These two tripods share a number of familiar features with the rest of the range while showing off a new interchangeable flat plate to suit photographers and a 75mm bowl mount to suit videographers. Both tripods can support loads up to 60kg / 132.2 lbs.
"Since we launched 10 years ago, we have focussed primarily on travel tripods, giving them greater rigidity and stability than any other travel tripod on the market. With Nicky & Tommy we have taken that technology and applied it to our first ever wildlife & video focussed tripods. In testing, the results have been absolutely outstanding, and I am delighted to see them finally join our already incredible portfolio of tripods. Video tripods were always going to be a challenge for me to design, as the purpose and functions fall outside of my wheelhouse as a photographer, but over the last 3 years I have consulted with a number of world-class videographers and wildlife photographers to produce two products that not only withstand the rigours of even the most brutal terrain and weather conditions, but also the functionality and innovation long sought by those using these products on a daily basis." – Danny Lenihan, Founder & CEO of 3 Legged Thing.
Nicky and Tommy follow in the steps of the rest of the Legends and have been named after two more awesome skateboarders, Nicky Guerrero and Tommy Guerrero. Nicky is a 4-section carbon fibre tripod. He is 1.56m / 61.41" tall fully extended and can still reach as low as 12.4cm / 4.88". With 3 detachable legs he is able to pack down into most carry-on cases - an ideal, and incredibly robust, travel companion. Tommy is a 3-section carbon fibre tripod with 35mm / 1.38" tubing. He is the sturdiest tripod to date across all of the 3LT ranges. Folding down to 73cm / 28.74", reaching heights of 1.62m / 63.77" fully extended and with 3 detachable legs, he offers incredible strength and versatility.
3 Legged Thing have introduced a few new features for these two tripods; interchangeable plates, wider carbon fibre tubing and a new impressive load capability. Nicky and Tommy will come complete with a flat plate with a 3/8"-16 thread, to allow for a standard AirHed or video head to be mounted, and a 75mm bowl mount for video heads. Channels for cables have been machined into the canopy, along with a 1/4"-20 accessory thread for monitors and other compatible devices. The new tubing is the most substantial 3LT have used to date, this means that not only do they have unparalleled rigidity and stability, but they can support up to 60kg / 132.2 lbs of gear. They also feature 3 detachable legs – something never before available on video tripods.
Nicky and Tommy will come complete with a clamshell-opening, protective nylon carry case which has 2 pockets - one internally to hold the additional plate and one on the outside to carry a variety of interchangeable footwear available from 3LT.
Both tripods are constructed from 8 layers of 100% pure Japanese carbon fibre, and aerospace-grade, anodised magnesium alloy, providing incredible strength, rigidity, and durability. They feature 3 detachable legs to enable conversion to a table-top tripod with the help of 3LT's Vanz tripod footwear, which are available to buy separately. The legs can be used as monopods and boom arms for microphones or lights.
The Legends style twist locks with O-Pads give users improved, grip, leverage and water displacement. Internally both Nicky and Tommy's locks feature the new style of Chicken Lips (shims) that give improved strength and create an unprecedented level of stability. 3LT's Rapid Latch makes adjusting the leg angles quick and easy for those with impairments or wearing thick gloves.
Nicky and Tommy are available for pre-order starting today from local retailers or direct from 3leggedthing.com
Nicky, including both flat plate and 75mm bowl mount – SRP: £699.99 GBP / $749.99 USD
Tommy, including both flat plate and 75mm bowl mount – SRP: £729.99 GBP / $799.99 USD
For more information about these two tripods. Please find the webpages below.
Nicky: https://3leggedthing.com/nicky
Tommy: https://3leggedthing.com/tommy
Headquartered in two converted chicken sheds (Shedquarters & Return of the Shedi) on Kinsbourne Farm, in Stagsden, Bedfordshire, 3 Legged Thing is a small, British company of passionate people, creating and innovating camera support systems for photographers and videographers. 3 Legged Thing was the winner of the Lucie Technical Awards 2017 Tripod of the Year, and 2018 nominee for best tripod and best industrial design.
If you would like more information about this press release, please contact Alison Barclay or Megan Prouse on +44 (0) 1234 828834 or email marketing(at)3leggedthing(dot)com.