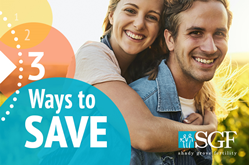 To help make cost less of a barrier to seeking care, SGF has developed three new financial options for fertility treatment.
WASHINGTON (PRWEB) July 14, 2020
To ease the cost of treatment during these uncertain times, Shady Grove Fertility (SGF) is proud to announce the launch of three new money-saving programs. While many patients have some form of insurance coverage for treatment or live in an area that has coverage provided by a state mandate, SGF recognizes there are some without any insurance coverage or benefits.
To help make cost less of a barrier to seeking care, SGF has developed three new financial options for fertility treatment.
Patients Paying with Cash Receive a 3 Percent Discount
For a limited time only, patients enrolled in SGF's Shared Risk 100% Refund Program* or Multi-Cycle Discount Program who pay via certified funds or wire transfer will receive a 3 percent discount on fertility treatment.
*Shared Risk 100% Refund Program: discounts do not apply to fees related to an Egg Donor, or Shared Risk riders.
A Deferred First Month Payment Means Patients Can Start Now and Pay Later with $0 Down
Fertility Finance specializes in providing patient financing services for all fertility treatment options. With its easy loan process and competitive rates, Fertility Finance ensures that the financial aspects of treatment are not an obstacle to achieving the dream of parenthood.
For a limited time, SGF has partnered with Fertility Finance to offer flexible first month payment options on all loans funded during July of 2020.
The first loan payment is generally due in the month following that in which loans are finalized. To reduce the economic burden during these trying times, Fertility Finance is providing SGF patients with the following flexible first monthly loan payment option:
1. For all loans funded during the month of July 2020, borrowers can request that their first monthly loan payment be in EITHER August or September 2020.
To receive this special offer, patients will need to request the desired payment option at the time their loan is finalized.
One patient shared her experience and gratitude working with Fertility Finance to be covered for IVF treatment.
"Two years ago, I was desperately trying to come to terms with the fact that in order to have children, I would need to undergo IVF. I didn't have money to pay for IVF and I had tried so many other finance companies without success. I filled out a form on your website on a Friday night, thinking I would once again be disappointed. Instead, that night changed my life. I can never fully express my gratitude to Fertility Finance for making my dream of motherhood come true. You are responsible for giving me the most precious gift I will ever receive and I truly thank you from the bottom of my heart." —Andrea
Click here or call 888-497-8414 to learn more about Fertility Finance.
SGF's Flexible Payment Program Lets Patients Pay Over Time
For a limited time only, patients now have the option to pay for services over the course of 3 months, as opposed to paying in advance of treatment. This program provides more flexibility and added convenience, with a 60-20-20 payment model. Patients will pay 60 percent their first month, followed by 20 percent the second month, and the remaining 20 percent the third month.
Patients enrolled in SGF's Multi-Cycle Discount Program or Assure Fertility Financial Program for egg freezing are eligible for this flexible payment program.
More Ways SGF Helps Patients Afford Fertility Treatment
In addition to these new affordable options, SGF offers innovative financial programs, including a 100% refund guarantee program. SGF was the first practice to create an IVF program with a refund guarantee, known as the Shared Risk 100% Refund Program. This exclusive program provides patients with the opportunity to pay a fixed amount for up to six fresh IVF or donor egg cycles and any subsequent frozen embryo transfers (FETs). In the event the patient does not take home a baby, SGF provides a full refund. Eighty-two percent of participants take home a baby.
Other popular programs that make treatment at SGF more affordable include a Shared Help Discount Program, an income-based program that offers a discount on most treatments and procedures, a Military Discount Program, which offers active U.S. military and reservists a discount off qualifying self-pay rates, and a Shared Donor Egg Program, which reduces the cost of donor egg treatment when sharing donated eggs with other patients—an approach that does not lower the chances of conception but significantly lowers the cost.
To learn more or to schedule a virtual consultation with an SGF physician, call 1-888-761-1967.
About Shady Grove Fertility (SGF)
SGF is a leading fertility and IVF center of excellence with more than 85,000 babies born and counting. With 38 locations throughout FL, GA, MD, NY, PA, VA, D.C., and Santiago, Chile, we offer patients virtual physician consults, individualized care, accept most insurance plans, and make treatment affordable through innovative financial options, including treatment guarantees. More physicians refer their patients to SGF than any other center. Call 1-888-761-1967 or visit ShadyGroveFertility.com.