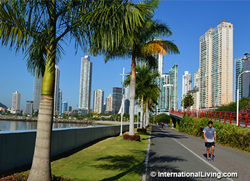 "In many of the warm-weather, lower-cost countries we recommend, older folks are treated very well—it's simply the cultural norm."
BALTIMORE, Md. (PRWEB) February 12, 2019
Retiring to good-value, warm-weather locales overseas offers lots of rewards: like less stress, more freedom, and a lifestyle upgrade (live better, spend less).
But those benefits are largely a function of climate and global economic disparity—retirees head to warm-weather locales where their dollars stretch, simple as that.
But some nations are doing more to entice expat Boomers to their shores.
"In many of the warm-weather, lower-cost countries we recommend, older folks are treated very well—it's simply the cultural norm," says Jennifer Stevens, Executive Editor, International Living.
"They'll be invited to the front of the line at the bank, treated to a better seat on the bus.
"But some countries are actually wooing expat retirees with benefits and discounts like tax breaks, lower-prices for all sorts of services, and an easy path to residence. Our 2019 Global Retirement Index examines the perks on offer, naming Panama, Mexico, and Ecuador the winners this year in our Benefits and Discounts category."
Winners, Category: Benefits and Discounts, IL's Annual Global Retirement Index
#1 Panama
Panama takes the number one spot in International Living's 2019 Annual Global Retirement Index. And, it claims top ranking in the Benefits and Discounts category, scoring 100 points out of 100.
What makes Panama superior from the expat retiree's point of view is its Pensionado program.
"When I first started writing about my life in Panama, about 12 years ago, much was being made about Panama's Pensionado program," says Jessica Ramesch, IL Panama Editor.
"And there were some good reasons for that. It offers foreign pensioners an easy 'in' to becoming legal residents of Panama. Year after year, Panama takes the number one spot in International Living's Annual Global Retirement Index Benefits and Discount category and the Visa and Residence category.
"To apply as a foreigner, you simply have to show proof of a verifiable pension—corporate or government—of at least $1,000 a month. If you're applying with a spouse, you need only prove that you receive a combined total income of at least $1,250 a month—that's what the Panamanian government deems sufficient for you to live a good life here.
"In Panama all legal residents—be they foreign or local—are deemed pensionados at age 55 for women and 60 for men. Pensionados in Panama are treated not as old fogies, but rather with respect and courtesy. Plus, the discounts are top-notch, like: 25% discount on meals, and when it comes entertainment, movies, concerts, sporting events, and more, it's a full 50% off.
"And, for many expats here, the climate and more laid-back culture have resulted in a more natural, active, lower-stress lifestyle. But as pensionados, retirees benefit from medical costs that are 25% to 75% lower than in the U.S. Pensionados are entitled to 15% off hospital bills, 20% off prescription medicines, 20% off medical consultations, 15% off dental and eye exams, and 20% off professional and technical services. When my dad was still alive and living with me, the discounts were a blessing."
#2 Mexico
Mexico takes second place in this category with 97 points.
Mexico—a drive from the States—offers many of the First World conveniences we are used to—including good highways, plenty of airports, reliable telephone service, and fast internet connections.
Mexico's lower cost of living means a comfortable, fulfilling life here cost a fraction of what it does back home. But the benefits don't stop there...
"Retirees from the U.S. can take advantage of several benefits, which begin during the simple and fast visa-application process," says IL Riviera Maya Correspondent, Don Murray.
"Once residence is granted, you can sign up for a national healthcare plan. When over the age of 60 years, you may also receive your national senior discount card, which opens the door to many discounts on goods and services, like entertainment, restaurants, hotel stays, non-airfare travel, and recreational activities or sports facilities, often ranging from 10% to 20% percent."
#3 Ecuador
In third place, with 91 points, is Ecuador, the Land of Eternal Spring.
Donna Stiteler, IL Correspondent, is based in Cuenca, Ecuador—a grand colonial city known for its rich intellectual and artistic tradition.
She says, "seniors are respected here and get benefits like special lines in stores that allow you to go to the front of the queue.
"There's 50% off tickets for sporting and cultural events, including movies. And you can get 50% off public and private transportation within the country—including the Galapagos, where just having a National Identify card gets you a 90% discount on the park entry fee."
Jim Santos, IL Coastal Ecuador Correspondent, lives in Salinas—Ecuador's largest coastal resort. He adds, "Retirees can get 50% off airfares too (excluding taxes and fees) for flights that originate and end in Ecuador, and must be purchased at the counter or through a travel agent."
The country itself offers a lower cost of living overall but retirees can take advantage of further discounts—like, paying the modest property tax in a lump sum, early, which provides a discount.
"I don't think enough is said about the low property taxes in Ecuador," says Jim. "When we were in the U.S., we had a three-bedroom condo in a building on a river. Our property taxes were over $5,000 a year. Now we live in the resort city of Salinas on the Pacific coast of Ecuador.
"We enjoy living in a modern, 2,000 square foot 4-bedroom, 4-bathroom oceanfront condo with a beautiful 180-degree view of the ocean. This January, we paid our taxes before the 15th to take advantage of the 10% discount, which is almost embarrassingly frugal, as our total bill was $345.21 for the year."
More details on the top three countries in the Benefits and Discounts category of International Living's Annual Global Retirement Index 2019 can be found here:
Top 3 Countries in the World for Retiree Benefits 2019
Editor's Note: Members of the media have permission to republish the article linked above once credit is given to Internationalliving.com
Further information, as well as interviews with expert authors for radio, TV, or print is available on request. Photos are also available.
For information about InternationalLiving.com content republishing, source material or to book an interview with one of our experts, contact PR Managing Editor, Marita Kelly, +001 667 312 3532, mkelly@internationalliving.com
Instagram: https://www.instagram.com/internationalliving/
Twitter: @inliving — https://twitter.com/inliving?lang=en
Facebook: https://www.facebook.com/International.Living/
About International Living
Since 1979, InternationalLiving.com has been the leading authority for anyone looking for global retirement or relocation opportunities. Through its monthly magazine and related e-letters, extensive website, podcasts, online bookstore, and events held around the world, InternationalLiving.com provides information and services to help its readers live better, travel farther, have more fun, save more money, and find better business opportunities when they expand their world beyond their own shores. InternationalLiving.com has more than 200 correspondents traveling the globe, investigating the best opportunities for travel, retirement, real estate, and investment.