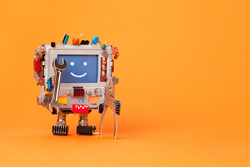 "We as an agency use noDev automations to increase our response time to sales leads and it is has led to a 250% increase in revenues during the first year alone. We even whitelabel automation platforms for our clients!" - Ray Gutierrez, VP of Business Development at BusySeed
NEW YORK (PRWEB) December 02, 2019
Many people are worried that automation is ruining the job market. However, automation software can actually increase productivity and streamline much of the tedious work done in offices. Programs like Zapier, Integromat, and IFTTT are taking the working world by storm with their many options for automation. If your company does not currently use automation tools, keep reading for reasons why you should. BusySeed uses automation tools for many tasks each day, and we can attest to the time it saves us. As a digital agency, we may be biased about incorporating more technology into our everyday lives, but we have sound reasons behind our decision to automate.
Why and What Should You Automate?
According to WorkMarket's 2020 In(Sight) Report, 54% of employees believe that automation can save up to 240 hours annually. That's 10 full days of work saved by using automation! What tasks are taking up so much time? The simple answer is this; anything repetitive can easily be automated. Some easily-automated tasks include: organizing meetings, data entry/reporting, sending reminders about deadlines, paying bills, signing documents, collecting customer information, sending emails, etc. These tasks may seem insignificant, but if you add up all the time your employees spend on them each day, you'll see that these mundane jobs cost hours per week. According to a noDev case study, automation has helped industries such as Ecommerce (among others) increase sales by 30-50% by bridging platforms like Shopify to MailChimp, Facebook and more. By investing in automation tools, you can streamline manual processes as well as save your business time and money.
Here at BusySeed, we incorporate automation into just about every job we do. We receive meeting reminders via automations, certain actions performed by clients trigger notifications to the team on other apps, We get monthly reminders about what needs to be posted for each client, and recorded meeting calls are automatically sent to our log system. When you really sit down and look at it, it's clear how much time automation is saving our team. One of the most useful ways we use automation is in our sales department. In order to get a lead within five minutes of it coming in, we have a series of complex automations to alert the sales team. When a lead comes in meeting our parameters, we receive a notification on Slack so the Business Developers can jump on it quickly. By adding this automation to our sales method, we have been the first to respond to a lead many times, earning us new clients.
Let's Take a Look at Some of the Most Popular Automation Tools.
Zapier: Zapier markets itself as the automation tool offering "more integrations than anyone." With over 1,500 supported apps, they may be right. Zapier makes it extremely easy to create workflows with just a few clicks. Zapier is great for every company! Their biggest differentiator is the fact that their tools are easy enough for anyone to use. You can create complex, multi-step "Zaps" to get information from point A to point B in no time!
Pros:

Sports a very simple to follow user interface that anyone can use.
It has over 1,000 different apps so the possibilities are vast.
Cons:

It can be pricier for automation-heavy users.
Advanced functionality with your automations is cumbersome
Integromat: Like Zapier, Integromat lets you automate just about anything you can think of. At the moment, Integromat does not support GSuite, Hootsuite, Google Slides, and a few other apps, but it makes up for the lack of features with a powerful automation building interface that let's you juice out automation functionality that Zapier can't touch. When you purchase Integromat, you receive many valuable features including detailed information about every operation, easy-input functions, and the ability to choose what data you want to start with - even if it is from before you activated your workflow.
Pros:

Great user interface if you are an advanced automation user.
Very cost-effective compared to other platforms.
Cons:

Has the least amount of apps available to integrate.
It can overwhelming when trying to automate more than 8 apps at a time.
IFTTT: IFTTT is one of the longest-lasting automation tools in existence that many businesses utilize regularly. This tool connects with many online apps as well as in-system settings. With IFTTT, you can create integrations Android, iOS, Chrome, and other apps that aren't available with either Zapier or Integromat. The name IFTTT comes from the conditional statement used in programming, "if this, then that." That's exactly what this tool specializes in. While the other platforms have much more detailed user interfaces, the flows you create work under the rudimentary rules "if this happens, then that will happen after." With IFTTT, you can even control your Alexa, phone notification settings, iRobot, and more!
Pros:

Since it is the original automation tool, it has a massive community for support.
Has integrations with many pieces of hardware like Alexa, fridges, smart homes, etc.
Cons:

IFTTT requires a general understanding of how apps communicate on the internet.
The automation creation process can be confusing when starting off.
If you're wondering, BusySeed uses Zapier and Integromat frequently. We find that each is better-suited for certain types of automations, so we assign one program to one type of task and the other to other tasks. IFTTT is the original automation tool, and we have experience using it. While we have slowly transitioned away from IFTTT for reasons of ease-of-use, there are still some integral automations that we still use it for.
Examples of Automation That Are Useful To Businesses.
As we've said, BusySeed uses automation everywhere in our company. We like to find tasks that we consider tedious, and find ways to automate them. Many of our automations have also been added to avoid falling behind on client needs as our company grows and expands into new areas. These are just a few of the automations we use daily.
Auto Email: An auto email is very useful when your business frequently has a very full inbox. Auto emails are sent out at scheduled time intervals, or whenever a certain action is taken. For example, a weekly email is considered automated, as is a confirmation email when someone makes a purchase or submits a form. By using auto emails, you eliminate the need for an employee to waste time responding to every message that comes in. You also avoid wasting time writing individual messages or having to input x amount of addresses.
Auto Tweet: To save time, you can set up auto tweets! These tweets are usually created ahead of time and then scheduled for posting at a later date. Auto tweets are great for any business that utilizes social media, or for digital marketing agencies. With this feature, you don't need to write up tweets daily; you can create many at once and schedule them for the whole week!
Wordpress Automation: You can use Wordpress Automation to accomplish a lot on your site! From auto-updates to scheduling blog posts, automating your website will save you a lot of time and hassle. Wordpress Automation is great for businesses of any size because there are so many opportunities to relieve yourself of mundane work.
Facebook Automation: Just about everyone uses Facebook. As a business owner, you certainly should be! Facebook Automation takes the work out of maintaining an account. With these tools, you can auto-reply to messages, automatically invite people to like your page, instantly respond to comments and reviews, and more! Facebook automation is a real time-saver that will save you a lot of headaches.
There are so many other useful automations that you can set up. Some other popular ones include Quickbooks Automation, Gmail Automation, and Shopify Automation. If you're still curious about what else automation can do for you, take a look online for examples. Some automation agencies can help you utilize Zapier, Integromat, and IFTTT to build these automations without having to worry about getting set up.
No matter what you choose to automate, you should see an increase in productivity as well as saved time and money. You can choose to automate as many or as few of your business tasks as possible, but we promise that once you try it, you'll never go back. The more you set up automation, the more useful they seem. Soon, you'll be automating tasks you never realized took so much time away from the workday! So remember, contrary to popular belief, automation is a great tool for businesses, not a villain to the workforce.