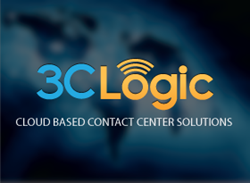 3CLogic is a true cloud solution hosted on AWS, which allows our clients to take full advantage of the superior cloud platform it has to offer while also benefiting from the added scalability, security, and flexibility our own solution provides
Rockville, MD (PRWEB) October 06, 2015
3CLogic, a leading provider of cloud contact center software, today announced it has been ranked among the top Cloud Call Center providers by GetApp for the third consecutive quarter. Recently acquired by Gartner, GetApp's "Top 25 Call Center Apps Based in the Cloud" rankings measure vendors based on five key criteria: integration capabilities, security, reviews, media presence, and mobile.
"We are honored to be recognized by yet another distinguished organization for our solution's superior performance and capabilities," explains Guillaume Seynhaeve, VP of Sales and Marketing at 3CLogic.
Among the highlighted categories within the report, 3CLogic led in system security, due in part to its unique Virtual Telephony Application Grid (VTAG) architecture hosted on Amazon Web Services (AWS), the worldwide leader for cloud infrastructure per Gartner's latest 2015 IaaS Magic Quadrant Report. "3CLogic is a true cloud solution hosted on AWS, which allows our clients to take full advantage of the superior cloud platform it has to offer while also benefiting from the added scalability, security, and flexibility our own solution provides," explains Seynhaeve.
3CLogic also scored high marks in system integration, resulting from the extensive variety of third-party solutions its platform can integrate with, including CRM, Customer Service Management, Workforce Management, Workforce Optimization, PBX, and Social Media Management.
Additional information on GetApp's Q3 Rankings are available at: https://www.getapp.com/customer-service-support-software/call-center/#getrank
About 3CLogic
3CLogic offers a complete suite of inbound, outbound, and blended cloud-based contact center solutions based on an innovative distributed approach (Virtual Telephony Application Grid or V-TAG) that eliminates the need for legacy server-centric architecture. Providing companies with a 360-degree view of all their customer interactions, regardless of the channel chosen, 3CLogic's solutions allow for a timely and accurate means by which to offer first call resolutions. As a true cloud software solution, hosted on AWS, it offers seamless integration with other cloud-based solutions, including CRM and WFM, while providing market-leading security, scalability, and reliability. Finally, in addition to traditional contact center features (i.e. multichannel communication, IVR, ACD, predictive dialer, etc.) 3CLogic provides a powerful reporting framework with business analytics and real-time scripting engine. For more information, please visit http://www.3clogic.com.