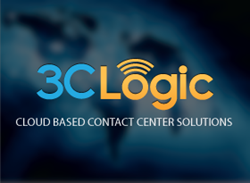 We are pleased to be continuously recognized as one of the leading providers of cloud call center solutions.
Rockville, MD (PRWEB) February 10, 2016
3CLogic, a leading provider of cloud contact center software, today announced it has been ranked among the top five vendors on Gartner-owned GetApp's quarterly "Top 25 Call Center Apps Based in the Cloud" report for the fifth consecutive period. GetApp's ranking measures vendors based on five key criteria: integration capabilities, security, reviews, media presence, and mobility.
"We are pleased to be continuously recognized as one of the leading providers of cloud call center solutions," explains Guillaume Seynhaeve, VP of Sales & Marketing at 3CLogic. "Our solution's superior security and reliability are truly what sets us apart and we are honored to be recognized yet again."
Among the highlighted categories within the report, 3CLogic continues to excel in both security and integration. The vendor credits its superior security to its unique distributed architecture, more commonly referred to as VTAG (Virtual Telephony Application Grid), which combines the power of Amazon Web Services' public cloud platform with its proprietary edge-computing technology. In addition, the solution's ability to seamlessly integrate with leading third-party CRM, Service Management, WFM, WFO, PBX, and proprietary platforms continues to set it apart from most other vendors.
For additional information on GetApp's Q1 rankings click here.
About 3CLogic
3CLogic is a leading provider of multichannel cloud contact center software designed for today's enterprise businesses. A true cloud solution, hosted on AWS, it offers seamless integration with other cloud-based solutions, including CRM, Ticketing, WFO and WFM, to allow any organization to migrate from premise-based or cloud platforms without disrupting existing business workflows. Built on a unique distributed infrastructure, it avoids the traditional pitfalls of current solutions while providing market-leading security, scalability, system flexibility, and reliability. Built to enhance sales performance, customer experience, and overall rep productivity, 3CLogic provides a powerful communication framework to help complement any business initiatives. For more information, please visit http://www.3clogic.com or blog.3clogic.com.