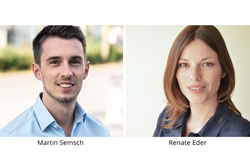 Together with Martin and the Vizoo team, I look forward to bringing this potential to light and truly transforming the industry. We will need to offer products and services which allow our clients to scale.
MUNICH (PRWEB) January 26, 2021
Renate, who joined the Vizoo team in 2017 as Director of Business Development, has a technical background in 3D computer graphics and has worked in the field since 2004. When she started her work for the sportswear brand Adidas in 2008, she developed a passion for the interdisciplinary field of 3D and fashion. When applying her technical knowledge to their apparel processes, she discovered the enormous potential when digitizing design, prototyping or sampling processes. Together with her team at Adidas, she drove the rollout of 3D technology to many apparel manufacturers and Adidas branches.
Martin, who has been with Vizoo from day one, will continue to bring his expertise to lay out the overall strategy and drive technology innovation. He says, "The fashion industry is in a very disrupted state and on the verge of a giant leap towards digitalization. Additionally, with the global pandemic and traditional processes failing, this ongoing change receives another boost."
Renate provides some thoughts on her new role with Vizoo. "I am very excited to co-manage a company that will drive and facilitate how brands interact with their suppliers. There is a large potential for the industry in regards to digital materials, especially when looking at the whole supply chain. Together with Martin and the Vizoo team, I look forward to bringing this potential to light and truly transforming the industry. We will need to offer products and services which allow our clients to scale. The true ROI is realized when re-using 3D assets within a brand's or supplier's processes e. g. for material design and development. Furthermore, with travel constraints and digital fabric fairs coming up, the sharing of materials between companies for the sales and selection of materials will become a normality within the next couple of years."
With Renate adding her apparel know-how to Vizoo, the company plans to further develop customer-centric products and services, which will allow brands as well as suppliers to roll out and scale their digitization process. Part of that will be to improve and stabilize existing workflows to achieve the goal of a real digital material twin. Driving the development of the U3M format and establishing technology partnerships will be the foundation for those processes. Further, Vizoo will expand existing consulting services to help fashion brands, garment manufacturers and fabric mills create a solid material digitization pipeline.
https://www.vizoo3d.com/