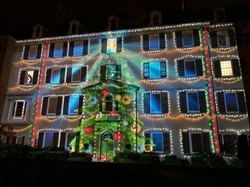 LOS ANGELES (PRWEB) December 01, 2020
PaintScaping, a world leader in 3D projection mapping, will collaborate with Panasonic System Solutions Company of North America to create a 3D projection mapping on Winterthur, the 4th largest house in the United States, for the holiday season. At 96,582 sq. ft. and 175 rooms, Winterthur was the private home of Henry Francis du Pont, of the famous du Pont family. Now a museum, Winterthur will present the 12 days of Christmas 1920s style-show from December 1 to December 12, 2020. Attendees will be able to view the show outside while maintaining social distancing practices.
The Los Angeles-based PaintScaping is no stranger to high-profile projects. This summer, it produced the world's first mapping on an operational rocket, at Cape Canaveral. In 2018, it created the largest mapping ever in the USA, for Britney Spears, in Las Vegas.
Similarly, Panasonic has a legacy of providing immersive entertainment experiences with cutting-edge projection technology. For Winterthur, PaintScaping will deploy the PT-RQ50KU 3-Chip DLP® SOLID SHINE laser projector, the world's smallest 50,000 lumens 3-Chip DLP® SOLID SHINE projector with True 4K+ resolution. With the projector's bright, crisp visuals and powerful color reproduction, guests will see the 12 days of Christmas come to life before their eyes.
"Although scale is important, it really is all about emotion. About bringing this incredible mansion to life, in ways people have never experienced," says Philippe Bergeron, President and CEO of PaintScaping. Indeed, we will see du Pont preparing his yearly holiday event, which attracted the haute société from the East Coast.
"PaintScaping is exceptional at visual storytelling, and we are thrilled that Panasonic projection technology is able to bring their vision to life," says Rob Goldberg, Sales Director–Visual Systems, Panasonic Systems Solution Company.
PaintScaping's other famous – and infamous – mansions include the Winchester Mystery House, the Playboy Mansion, and Stan Hywet, the 20th largest mansion in the USA. Other iconic mappings include an enormous narrative show at the famed San Diego Zoo, voted #1 zoo on the planet; Rodeo Drive; Sony Pictures; Tiffany; Porsche; and Ritz-Carlton.
For high-rez photos, visit:
https://www.paintscaping.com
And right-click on thumbnails to download.
About PaintScaping
PaintScaping is a global leader in 3D mapping. Founded in 2009 by Philippe Bergeron, the Los Angeles-based company has produced unique 3D mapping shows across the U.S. including Orlando, Los Angeles, Las Vegas, New York, and Chicago, and many places around the world. Among its many clients are MGM Resorts, Ritz-Carlton, Sony Pictures, Westin Hotels, Caruso, and Cirque du Soleil. It holds many records in the mapping world. The most viewed mapping ever on YouTube. The biggest USA mapping ever. And the longest throw ever at 1.1 km.
About Winterthur
Winterthur Museum, Garden & Library, near Wilmington, Delaware, is known worldwide for its preeminent collection of American decorative arts, naturalistic garden, and research library for the study of American art and material culture. It offers a variety of tours, exhibitions, programs, and activities throughout the year. Yuletide at Winterthur is one of the most beloved traditions in the scenic Brandywine Valley. Visit winterthur.org for more or call 800.448.3883. Donate today to help us in our vision to inspire exploration of American culture and landscapes through compelling stories and experiences. Your donation ensures the future of Winterthur Museum, Garden, & Library.
About Philippe Bergeron
Philippe Bergeron is founder and CEO of PaintScaping, a global leader in 3D projection mapping. PaintScaping has done mapping in the USA, Mexico, Canada, France, Ireland, and South Africa. Bergeron, a native of Montreal with a B.S. and M.S. degree in computer science from the University of Montreal, remains a 3D mapping innovator and invited presenter for numerous industry events. He is also an actor. His numerous film and TV credits include Iron Man 2, Mad Men, Rush Hour 3, Contact, E.R., and guest starred in the final season of The Sopranos.
About Panasonic System Solutions Company of North America
Panasonic System Solutions Company of North America, a division of Panasonic Corporation of North America, delivers game-changing technology solutions that deliver customized experiences to drive better outcomes—for our customers and our customers' customers. Panasonic designs and manufactures reliable, flexible and dependable products and solutions to help create, capture and deliver information of all types, especially where, when and how it is needed. The complete suite of Panasonic professional solutions for government and commercial enterprises of all sizes addresses unified business communications, mobile computing, security and surveillance, retail point-of-sale, office productivity, audio and visual systems (projectors, displays & digital signage) and professional video production. To learn more and Panasonic's business products and solutions visit: https://na.panasonic.com/us/audio-video-solutions.
Philippe Bergeron is available for interviews. Video and photos are also available on request.
Media Contact:
Julia Bergeron – 818-497-8762
julia@paintscaping.com