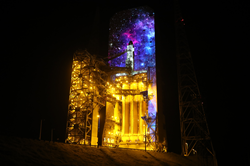 CAPE CANAVERAL, Fla. (PRWEB) September 01, 2020
PaintScaping, a world leader in 3D mapping, made history this week by creating projection mapping on an operational rocket, prior to the scheduled launch.
The mapping took place Aug. 24 on United Launch Alliance's Delta IV Heavy rocket. United Launch Alliance (ULA) is the nation's premier launch services company and is sending a mission into space from Cape Canaveral Air Force Station in Florida for the National Reconnaissance Office. This was the first time in history that a mapping was projected on an operational rocket.
The Los Angeles-based PaintScaping is no stranger to high-profile projects. "Now the sky is no longer the limit," notes Philippe Bergeron with a smile, CEO of PaintScaping. In 2018, it partnered with Nationwide Video to create the largest USA mapping ever — on Park MGM in Las Vegas.
"Having combined resources with Philippe and his elite team, we are very proud to be part of this monumental event, " says Bret Tracey, president of Nationwide Video. "In the AV world, this will have historical relevance."
For the ULA mapping, PaintScaping used six Christie 45,000 ISO lumens pure RGB laser projectors, some of the strongest projectors ever for mapping.
"PaintScaping is a virtuoso in 3D projection mapping storytelling, and we are thrilled PaintScaping chose Christie and Nationwide Video for this very special project," says Zoran Veselic, President and COO, Christie.
PaintScaping's mapping for Rihanna and Calvin Harris, using seven Christie projectors, also teamed with Nationwide Video, has garnered 2.4 billion views on YouTube, making it the most viewed mapping ever on the online video platform.
PaintScaping's other major projects include a giant storytelling mapping on nature, using 13 Christie 30,000 lumen projectors at the famed San Diego Zoo, voted #1 zoo in the world, as well as Rodeo Drive, Sony Pictures, Tiffany, Porsche, and Ritz-Carlton.
For high-rez photos, visit:
https://www.paintscaping.com/projects/cape-canaveral
And right-click on thumbnails to download.
You can also visit:
https://www.dropbox.com/sh/qpu611hgdiwj1co/AABUsG3cYkEFMUT-Cm7N7KIIa?dl=0
About Philippe Bergeron
Philippe Bergeron is founder and CEO of PaintScaping, a global leader in 3D projection mapping. PaintScaping has done mapping in the USA, Mexico, Canada, France, Ireland, and South Africa. Bergeron, a native of Montreal with a B.S. and M.S. degree in computer science from the University of Montreal, remains a 3D mapping innovator and invited presenter for numerous industry events. He is also an actor. His numerous film and TV credits include Iron Man 2, Mad Men, Rush Hour 3, Contact, E.R., and guest starred in the final season of The Sopranos.
About PaintScaping
PaintScaping is the industry leader in 3D mapping. Founded in 2009 by Philippe Bergeron, the Los Angeles-based company has produced unique 3D mapping shows across the U.S. including Orlando, Los Angeles, Las Vegas, New York, and Chicago, and many places around the world. Among its many clients are MGM Resorts, Ritz-Carlton, Sony Pictures, Westin Hotels, Caruso, and Cirque du Soleil. It holds many records in the mapping world. The most viewed mapping ever on YouTube. The biggest USA mapping ever. And the longest throw ever at 1.1 km.
Philippe Bergeron is available for interviews. Video and photos are also available on request.
Media Contact:
Julia Bergeron – 818-497-8762
marketing@paintscaping.com
Or
Ramesh Santanam – 412-716-0918
harrylime1000@yahoo.com