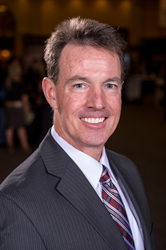 Jim's focus on the 3DR Cube and our Data Science as a Service offering will provide the kind of insights and ultimately Results that many of our customers now demand.
(PRWEB) August 30, 2017
3D Results®, a leading SuccessFactors HCM consulting, design, and implementation services provider, announced today that Jim Griffin has joined the firm as Vice President of Strategic Sales & Alliances. Mr. Griffin will focus his expertise on accelerating adoption of the 3DR Cube – a proprietary reporting, analytics, and data visualization platform that transforms data from any source into business insights.
Mr. Griffin brings a distinguished history of accomplishments from a long career within the HCM industry, including executive leadership positions at Authoria, Plateau, SAP SuccessFactors, Pearson Learning and most recently Accenture.
 "Jim's deep experience in HCM software, services and alliances will provide valuable leadership during 3D Results' ongoing evolution as a technology-enabled consulting firm. Jim's focus on the 3DR Cube and our Data Science as a Service offering will provide the kind of insights and ultimately Results that many of our customers now demand." said Dr. Brian Fieser, co-founder and President of 3D Results.
 
Please stop by the 3D Results booth, #16, to congratulate Jim and learn about the 3DR Cube at SuccessConnect 2017 Las Vegas. 
About 3D Results
Imagine a future where human capital drives business Results. Where business strategy, HR, and smart data align to inform and inspire performance. Where you maximize your organization's most valuable assets: your people. This future is possible with 3D Results®.
3D Results provides high-touch consulting services for SAP SuccessFactors solutions and IBM Kenexa cloud HCM suites. Our Process on Purpose® methodology ensures a successful implementation, while optimizing business processes and aligning systems with organizational talent strategy. We ask the right questions and push beyond the easy answers to uncover the best combination of process improvements and technology to meet organizational goals. We deliver Results. For additional information about 3D Results, visit http://www.3dresults.com. Visit the 3D Results Blog and follow @3DResults on Twitter for more insights and perspectives. Contact 3D Results to schedule a discussion around recruiting marketing needs.
*SAP SuccessFactors is a new brand name launched in January 2016 and is used here to mean the offerings, employees and business of the acquired company SuccessFactors, which continues to be the legal entity until integration with SAP is complete.
###
SAP, SuccessFactors and other SAP products and services mentioned herein as well as their respective logos are trademarks or registered trademarks of SAP SE (or an SAP affiliate company) in Germany and other countries. See http://www.sap.com/corporate-en/legal/copyright/index.epx for additional trademark information and notices.
All other product and service names mentioned are the trademarks of their respective companies.
SAP Forward-looking Statement
Any statements contained in this document that are not historical facts are forward-looking statements as defined in the U.S. Private Securities Litigation Reform Act of 1995. Words such as "anticipate," "believe," "estimate," "expect," "forecast," "intend," "may," "plan," "project," "predict," "should" and "will" and similar expressions as they relate to SAP are intended to identify such forward-looking statements. SAP undertakes no obligation to publicly update or revise any forward-looking statements. All forward-looking statements are subject to various risks and uncertainties that could cause actual results to differ materially from expectations The factors that could affect SAP's future financial results are discussed more fully in SAP's filings with the U.S. Securities and Exchange Commission ("SEC"), including SAP's most recent Annual Report on Form 20-F filed with the SEC. Readers are cautioned not to place undue reliance on these forward-looking statements, which speak only as of their dates.
Media Contact:
Shannon E Kreps
Director of Product Marketing
3D Results
919 6633 4385 (m)