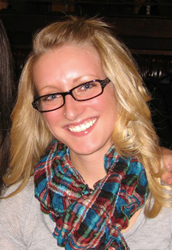 I learned how to ask important questions that are critical for meeting the demands of the real world.
New York, NY (PRWEB) May 30, 2014
3D Training Institute (3DTi) Graduate, Lindsay Lindner, received her B.F.A degree with a concentration in Graphic Design from the University of Wisconsin. While she was in school, she saw some of her friends using Maya and thought that she would love to learn the program. But, Lindsay was also minoring in photography with a specialization in web design, and Maya was not offered as an option in her program. She tried to teach herself using online tutorials, but could never master the complexities of the program.
After graduation Lindsay took a job working in marketing and graphic design primarily in medical device manufacturing. One day she found out how much money her company was paying to outsource their 3D work. "I was raising my hand, saying I can learn to do this," Lindsay says. "I had no prior experience with 3D. I had worked with 2D animation (Flash and After Effects), but since I had always wanted to learn Maya, I jumped at the opportunity. I started searching for schools and I found 3D Training Institute (3DTi). I loved that I could learn from home and I could take classes on the weekend."
Lindsay also liked knowing that 3DTi had a partner production company, 3D Mirage, that was available to help her if she needed additional production assistance.
"But, I still wasn't sure what to expect when I started classes at 3DTi since I had no prior skills in 3D or in Maya. However, my experience with 3DTi was great. The instructors went above and beyond to help me when I needed it. The courses are fast paced and rigorous but in the end I was amazed at how much I learned in only 4 months."
3D Training Institute uses a proven training methodology that combines proprietary interactive videos, projects, and live online production sessions that mimic a real world working environment. Students are treated as professionals and meet with their Production Supervisors live online, once a week to learn how to take their work to the next level.
"This really worked for me," Lindsay says. "I learned how to ask important questions that are critical for meeting the demands of the real world. Today I can say that my success is due to everything I learned from 3DTi."
Lindsay says that she feels pretty confident in her abilities. "But, I also know that I have a lot of room to grow as a 3D artist since I just completed the 3DTi program in February." So far, she says that one of her proudest moments was when she figured out how to model the medical devices on her own and was able to show them to the owner of the company she works for full-time.
"I would tell other designers," Lindsay advises, "to be good at two or more things besides graphic design. It really gives you an advantage in the work place." She recommends the 3DTi program highly and encourages other students. "Keep up with the videos and homework, don't fall behind. If you get stuck, don't be afraid to ask for help, the instructors are amazing. And take breaks! They help a lot."
Joel Orr, a member of the 3DTi advisory board, says, "New applications such as 3D printing and medical visualization are areas of high growth for 3D artists. Lindsay is a great example to anyone who is already working, and wants to expand their skill set, to make themselves more valuable to their current employer. This is also a great time for someone considering a career change to learn 3D, to help fill the growing need for 3D artists in a wide range of opportunities."
About 3D Training Institute
3D Training Institute (3DTi) is the leading provider of short-term production-based training programs in Autodesk Software. Popular trade magazines have recognized 3DTi as "One of the top schools, where students can put their careers on the fast track." 3D Training Institute was one of the first companies to offer project-based training in a simulated live online production environment. Recently, 3DTi became one of the first live online training centers to become an authorized Autodesk Training Center (ATC). For more information, visit http://www.3DTraining.com.