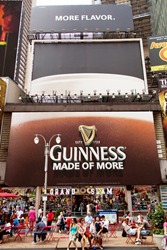 With 3D there's no ceiling any more. I saw a new light on my career path.
New York, NY (PRWEB) April 30, 2014
3D Training Institute (3DTi) Alumni, Sal Torchia, earned his degree in Advertising Design and Communications, moved to New York City and landed his dream job at BBDO, a prestigious advertising agency. He loved working in 2D design, retouching and print ads but after a while he realized that he kept bumping up against a ceiling in his profession.
As much as Sal loved working in advertising, and producing great work for clients such as Pepsi, Snickers, Gillette, and Visa, he started to think he would have to make a career change but couldn't imagine what that would be. "I looked at all of the options around me within the ad world but I began to see an increasing amount of people becoming burned out and many just unhappy."
He started asking himself the difficult questions. "What do you do when you have invested time and money in a career only to find out your opportunities don't match your ambitions?"
Sal took to the Internet to do some research and discovered 3DTraining Institute. "I went to the Free Intro Class and I was hooked." He signed up for the Maya Course immediately.
"I absolutely fell in love with 3D and 3DTi. I never knew what I was missing. Our instructor, Trent, taught us the how and the why, as well as the math and science behind 3D. It was so much better than a tutorial and it was a lot quicker than if I tried to learn on my own. Suddenly I could take my work to a level where you couldn't tell the difference between real and animated."
Sal got excited about his career again. "With 3D there's no ceiling any more. I saw a new light on my career path. 3DTi opened doors for climbing up the job ladder and making big money."
As a professional in the field, Sal sees endless opportunities for people who know 3D. "Agencies and prospective clients want more realism. There isn't always time to set up photo shoots and there's a huge request for 3D animation to create more vibrant and attention grabbing work." He also sees lots of demand in design shops, as well as marketing, communications, and PR companies.
Over the years, Sal has contributed to the success of many projects, creating buzz on social media and most importantly keeping BBDO clients happy and satisfied. Some of his notable accomplishments include a first time use of CGI for their Guinness client that was displayed for the world to see on a billboard in the middle of Times Square. A Lowe's project that required the modeling and animating of multi-tool wrench for its launch which became one of the best sellers of the season. A holiday campaign for HBO that captured iconic themes and imagery from their shows modeled into Christmas ornaments, and Gillette's art deco campaign for the Art of Shaving.
Sal says he is very grateful to 3DTi for giving him a new skill set to be able to stay in the profession that he loves. "If someone is unhappy with their job or thinking about changing jobs, and they want to make themselves recession proof or indispensable, I would highly recommend jumping into the 3D field."
"We are so very proud of Sal and the work he has done," says Ben Katt of 3DTi. "At 3DTraining Institute, we are here to help him continue to learn and grow and help him achieve his professional goals and aspirations."
About 3D Training Institute
3D Training Institute (3DTi) is the leading provider of short-term production-based training programs in Autodesk Software. Popular trade magazines have recognized 3DTi as "One of the top schools, where students can put their careers on the fast track." 3DTi was one of the first companies to offer simulated on-the-job training in a live online production environment. 3DTi is an authorized Autodesk Training Center (ATC) and is licensed by the New York State Education Department (BPSS). For more information, visit http://www.3DTraining.com.