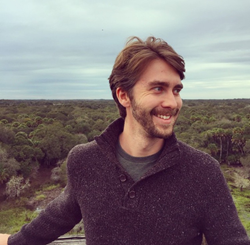 We are tremendously proud of Michael and appreciate his willingness to share his story and inspire other people who may also still be searching for work that they love.
New York, NY (PRWEB) February 03, 2015
Michael Goldman came to his 3D Training Institute graduation to announce that he had just been hired as a designer by R&R Associates, a leading product design and engineering firm in Sarasota, FL. He's been excited ever since, to get up every day and go to work.
But, the road to success was not always so clear or easy. Michael's been an artist since he could hold a brush and fondly remembers time spent attending class at "Creative Art for Young Children" a school run by his family for the last thirty years in the small town in California where Michael grew up. Michael went on to attend the prestigious Skidmore College, where he studied painting and drawing. He lived abroad for a few years and then moved to New York City. He cherished his experiences, but something was still missing.
As Michael explains, "After all that time and money, I still couldn't find anything that I wanted to pour my time and energy into that would also provide me with financial stability."
But, he kept trying. He landed an internship in New York at an international artist residency program called the International Studio & Curatorial Program (ISCP). From there he joined the world renowned studio of Takashi Murakami, Kaikai Kiki Co., Ltd.
"This was a great experience. Murakami is world famous and there is a very strong work ethic in his studio. We were working 12 hour days, creating extremely detailed work on a tremendous scale. But, in the end, it made me want to work on my own art even more," Michael recalls.
At this point, Michael decided to try to teach himself 3dsMax. After a period of frustration, Michael found 3D Training Institute, a live online program that uses a production based training methodology to teach Autodesk software programs 3dsMax, Maya, Revit, and Inventor. After only 16 weeks, he had a portfolio of projects that he was able to show to clients and companies. He took the work he had completed during the 3DTi program and landed an incredible opportunity as a 3D Designer.
"I got my job before I even got my degree. The 3DTi program was great. It was my first live online experience and I would highly recommend the program. I felt as though they really prepared me for a real world working environment. I really liked the hands on learning and I felt really confident knowing that I had completed whole projects and been successful in getting the job done well. Now I get to focus my creative energy sketching, designing and rendering product ideas that will become real tools for people to hold in their hands. It is very satisfying."
And for the first time, Michael finds himself really excited about going to a job that he loves. He has this advice to aspiring artists: "Be flexible. Put all your effort into doing a good job, but, don't get hung up on being perfect. In business, deadlines come quickly and there are million ways to solve each problem, but no time to try them all. Focus on what's important and move on, because your second, third and fourth project will be a hundred times more efficient and rich. One of the best things I got from 3DTi was a job that I really enjoy going to each day."
Gary Platt, of 3D Training Institute says, "Michael's success story embodies the mission of what we do here at 3D Training Institute. In a very short amount of time, we give our students the skills they need to find rewarding, creative, soul satisfying work. We are tremendously proud of Michael and appreciate his willingness to share his story and inspire other people who may also still be searching for work that they love. We look forward to hearing more about Michael's success and from other people who were motivated by his experiences."
About 3D Training Institute
3D Training Institute (3DTi) is the leading provider of short-term production-based training programs in Autodesk Software. Popular trade magazines have recognized 3DTi as "One of the top schools, where students can put their careers on the fast track." 3DTi was one of the first companies to offer simulated on-the-job training in a live online production environment. 3DTi is an authorized Autodesk Training Center (ATC) and is licensed by the New York State Education Department (BPSS). For more information, visit http://www.3DTraining.com.