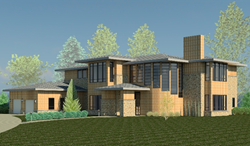 I was only about halfway through the Intermediate part of the 3DTi Revit Program, when I started getting interviews!
New York, NY (PRWEB) May 28, 2014
Brian Ballinger, 3D Training Institute (3DTi) Alumni, earned his B.S. in Architecture at Lawrence Technological University, near Detroit, Michigan, where their motto is "Possible is Everything." But he soon discovered that finding a satisfying job wasn't easy, and at times didn't even seem possible.
He was working as a draftsman using Autocad, but Brian wanted to work in a position where he would feel inspired, could grow with the company, and most of all, be happy. Brian found that a lot of companies were using outdated technology or could not promise long-term employment. Brian says, "I was constantly looking for a way out of the short-term job cycle; but without experience in Revit, I could hardly get an interview—let alone a good job."
Brian put his efforts into finding a job that would allow him to express his creativity and produce outstanding work. Finally, he managed to get an interview with a company that sounded like a great place to work.
"I met all of the qualifications, seemed to hit it off well with the interviewer and was positive that I would get a job offer. A few days later I received a phone call informing me that although they were currently working in Autocad, they wanted to switch to Revit—so they chose a candidate with 3D drawing experience. That's when I knew I had to learn Revit."
Brian started researching classes and schools online to find a program that would work with his schedule. Since he worked full time during the day, nights and weekends were his only option.
"I didn't feel like I would learn enough in a two-week crash course offered by other schools, and I needed examples of completed work to show in interviews," Brian said. "So, I decided to give the 3D Training Institute 16 week program a shot."
Brian likes the way the 3D Training Institute classes are taught in a simulated production environment to give each student the experience of working in a real-world setting.
"One of the most useful parts of the classes turned out to be the timed exercises," notes Brian. "This process helps to reinforce learning while building confidence and drawing speed. During one of the job interviews, they asked me to take a short test to prove my ability. Their test was nearly identical to the weekly timed exercises we were doing in class. I was able to complete the test in just half the time allowed and was offered a position with the company shortly thereafter."
At the 3D Training Institute students apply theory to real world projects. "I was only about halfway through the Intermediate part of the 3DTi Revit Program, when I started getting these interviews. I was able to show a couple of projects from my classes to some companies. I was so excited to find that I got three job offers!"
Brian finally found his dream job at Naos Design Group, and he gives all the credit to 3D Training Institute's simulated on-the-job training program.
"If you are willing to put in the time, you will succeed. The instructors challenge the students who are catching on quickly, while still taking time out for one-on-one sessions with students who are struggling with a particular concept," says Brian.
"The advice I have for potential candidates is this question... Which costs you more? The time and money put toward learning a new skill—or being left behind?"
Today, Brian is on the fast track to success as he and Naos Design Groups BIM Manager, Alyssa Tharrett, are teaching the rest of the firm's employees how to succeed using Revit!
Joel Orr, a member of 3D Training Institute's Board of Advisors says, "Brian's success in landing the job he wanted is testimony to his commitment, and to the power of 3DTi Revit training. Anyone wanting to move ahead in architecture and construction must be familiar with Revit; 3DTi offers an "express train" to that destination. Kudos to Brian!"
About 3D Training Institute
3D Training Institute (3DTi) is the leading provider of short-term production-based training programs in Autodesk Software. Popular trade magazines have recognized 3DTi as "One of the top schools, where students can put their careers on the fast track." 3D Training Institute was one of the first companies to offer project-based training in a simulated live-online production environment. 3DTi is licensed by the New York State Education Department (BPSS) and an authorized Autodesk Training Center (ATC). For more information, visit http://www.3DTraining.com.