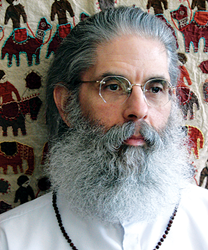 "Regardless of your unique situation, when you experiment with the creative power of your Conscience you'll always be guaranteed rewarding outcomes." -- Leonard Perlmutter (Ram Lev)
AVERILL PARK, N.Y. (PRWEB) November 30, 2021
The American Meditation Institute (AMI) announces that the third annual National Conscience Month will be observed January 2022 with the goal of encouraging individuals across the nation to practice consciously using their Conscience as their guide. Since 1996, AMI has provided comprehensive training in the world's oldest holistic mind/body medicine centered around one revolutionary principle: the human Conscience is the key to unlock limitless wisdom and creativity to solve all of life's challenges.
This month-long observance is an auspicious time to raise awareness about the value of using the Conscience as an inspired guide to making better lifestyle choices. In his new book, YOUR CONSCIENCE, National Conscience Month originator Leonard Perlmutter clearly explains how the mind can be trained to harmoniously and rewardingly reduce inner mental conflict, which in effect, will ameliorate external conflict. Always emphasizing a scientific approach, Perlmutter never asks people to blindly believe him, but rather to experiment with time-tested practices.
In today's world people often move quickly and react automatically––rather than making discerning choices. Currently there are few coordinated opportunities to teach people how to evaluate options or to use their Conscience as a guide. Because of this, people suffer personally and as a culture from ills like addictions, gun violence, political upheaval, chronic and debilitating health conditions, suicide, racism, bigotry, stress, and depression––to name just a few.
According to Perlmutter, "Today's problems were born in the human mind, and their solutions can only be found in the human mind. When we allow the mind's Conscience to connect us to the Source of our creativity, we will discover unimaginable answers that will transform our world."
National Conscience Month's (January 2022) campaign will:

Remind, educate and raise awareness about the value of using your Conscience as a guide to making better decisions.
Build and activate a national movement that embraces the role of conscience-driven choices in experiencing more health, happiness, security, and creating more rewarding lives for our families, communities and nation.
Encourage individual actions through simple experiments that aid in increasing positivity, self-confidence, and self-reliance.
Offer an opportunity for citizens to work in partnership with governments, school systems, faith leaders, non-profits, community organizations and corporations across the United States.
More resources and information about National Conscience Month are available at ConscienceMonth.org.
Perlmutter's book, YOUR CONSCIENCE, is available at all fine booksellers nationwide including Amazon and Barnes & Noble.
Leonard Perlmutter, originator of National Conscience Month and founder of The American Meditation Institute for Yoga Science and Philosophy is available for interviews.
About the American Meditation Institute
The American Meditation Institute (AMI), a 501(c)3 non-profit educational organization devoted to the teaching and practice of Yoga Science and AMI meditation as holistic mind-body medicine. In its approach to wellness, AMI combines the healing arts of the East with the practicality of modern Western science. Throughout the year, The American Meditation Institute presents Leonard Perlmutter's Foundation Course for solving all of life's challenges, and publishes Transformation a quarterly journal of Yoga Science that contains helpful news and a complete upcoming calendar of classes.
To schedule an interview with Leonard Perlmutter, please contact:
Facebook: https://www.facebook.com/AmericanMeditationInstitute
To schedule an interview, please contact:
Media Contact:
Robert Washington
American Meditation Institute
60 Garner Road
Averill Park, NY 12018
Tel: 518.674.8714
Fax: 518.674.8714