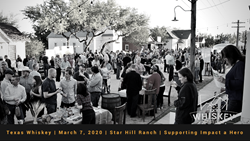 AUSTIN, Texas (PRWEB) February 16, 2020
The Texas Whiskey Festival returns to Star Hill Ranch near Bee Cave Texas. The March 7th event provides a casual and informative opportunity for whiskey enthusiasts to meet Texas' distillers and blenders while enjoying an evening of whiskey, food, music, cigars and great people.
From award-winning bourbons that have earned the ire of many a Kentuckian to peated single malts that'll have you daydreaming about riding a bucking bronco through the Scottish highlands - most distilled right here in the Lone Star State - the 3rd annual Texas Whiskey Festival is the whiskey enthusiast's preeminent destination to sample the best spirits this great state has to offer.
Event founders are pleased to announce that a number of favorite distilleries are participating, including Still Austin Whiskey Co; Andalusia Whiskey Co; Balcones Distilling; Treaty Oak Distilling; 1876 Bourbon; Ironroot Republic; Oak & Eden; Ranger Creek and Garrison Brothers. Details on new and additional distilleries can be found on the website.
Distilleries interested in participating can contact distilleries@txwhiskeyfest.com.
Sponsors interested in interacting with more than 800 attending whiskey enthusiasts can contact sponsor@txwhiskeyfest.com.
Members of the media interested in attending, or being a media partner are encouraged to contact media@txwhiskeyfest.com.
About the Texas Whiskey Festival
The mission of the festival is simple: To help promote and enhance the brands of the many great distilleries throughout Texas. Along with promotion, we want to educate whiskey lovers about the many top-of-the-line whiskeys being produced in our great state - and we're doing it all while having fun, drinking great whiskey, and building memorable experiences. As an organization, we know that Texas has some of the best distilleries and whiskeys in the world.
The Texas Whiskey Festival is an opportunity to showcase that. For more information, please visit: https://txwhiskeyfest.com.