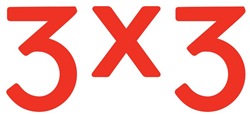 The most successful brands act like engaged party guests. They build enticing marketing paths that guide specific customers to them, over and over again.
NEW YORK (PRWEB) March 11, 2021
3x3, a growth marketing company, is pleased to release a proprietary report that outlines how beverage alcohol brands can build long-term marketing strategies that drive growth. As e-commerce explodes and retail discovery remains pandemic-constricted, brands need an informed approach to digital marketing that goes beyond short-term ad campaigns.
In today's digital world, consumer decision-making begins online, but that product discovery isn't necessarily why people open their web browser or social media app. Research from Think with Google shows that 60 percent of people discovered their favorite brands online while doing other activities, like reading emails, scrolling news feeds, browsing lifestyle sites and apps, and more. Most likely, they see a targeted ad at the right time in the right place.
But 3x3 knows that while shopper discovery may begin with an ad campaign, brand marketing shouldn't. Beverage alcohol suppliers looking to increase customer engagement and loyalty need to strategically invest in tools that can deliver the who, what, when, where, and why that creates strong relationships with shoppers.
"Brand marketing is like showing up to a party," says 3x3 CEO Mike Provance, PhD. "If you stand in the corner, people may not remember that you were ever there. But if you seek people out, hold different conversations based on their interests or on how well you know each other, maybe sing a little karaoke together, you've made friends for life. The most successful brands act like engaged party guests. They build enticing marketing paths that guide specific customers to them, over and over again."
In this report, 3x3 offers a primer on digital marketing and examines how beer, wine, and spirits brands can build long-term marketing that drives growth. Its contents include:

Digital Marketing 101: What is digital marketing?
Short vs. Long-Term Marketing: How do you integrate short- and long-term strategies?
Build a Better How: What makes a strong brand marketing strategy?
Case Studies: How are brands leveraging digital marketing tools for growth?
This blueprint for digital marketing will lead to stronger relationships with repeat shoppers for beverage brands. Every brand's playbook can (and should) evolve through constant analysis and leveraging of the tools available. The most successful brands of tomorrow will commit to long-term digital marketing today. Better strategies and campaign executions will help any brand grow, even in uncertain times.
For more details, additional insights, and information about 3x3, access the full report.
For media inquiries, please contact Josh Zoland (jzoland@colangelopr.com) or Paul Yanon (pyanon@colangelopr.com) of Colangelo & Partners.
About 3x3 - http://www.3x3.us
3x3 is a growth marketing company for beer, wine, and spirits brands. The company focuses on democratizing data to help alcohol brands grow according to their goals. How? 3x3 uses proprietary sales data to find ideal local shoppers for brands, then delivers alcohol advertising to them across digital channels. Alcohol brands count on 3x3 to identify, activate, and retain valuable customers who shop through the independent retail channel.