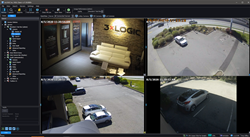 Version 11.5 positions us well to support higher camera counts, making us very cost competitive for enterprise installations, and with a TCO well below our competition." Jason Bryan, 3xLOGIC Director of Sales
FISHERS, Ind. (PRWEB) August 25, 2020
3xLOGIC, Inc., a leading provider of integrated, intelligent security solutions today announced release of the latest iteration of its highly-popular VIGIL Server Software, version 11.5. See a VIGIL 11.5 video overview here.
VIGIL Server software, now 64-bit, is the core around which all other 3xLOGIC applications are built. The Easy Setup Wizard guides installation, so you're up and running in minutes. VIGIL Server utilizes proprietary 3xLOGIC RapidStream Technology and Substream Motion Detection capabilities to provide high resolution over low bandwidth networks. Also, the new 64-bit architecture means customers are no longer limited to 32 cameras per server.
3xLOGIC Director of Sales Jason Bryan commented, "We're very excited for this next version of our VIGIL VMS platform. Version 11.5 positions us well to support higher camera counts, making us very cost competitive for enterprise installations, and with a TCO (total cost of ownership) well below our competition."
VIGIL Server is compatible with all ONVIF Profile S cameras, including 3xLOGIC's Time of Flight, Thermal, V- and S-Series cameras, and the new generation of VISIX Gen III cameras. In addition to Gen III cameras previously released on June 1st, these Gen III cameras are now available:

5 MP Indoor/Outdoor, Mini-dome IP camera: versatile camera fitting most every entry-level as well as more complex indoor/outdoor installation requirements. (VX-5M4-MD-IW)
8MP indoor/outdoor dome IP camera: vandal resistant, versatile camera fitting most every outdoor installation requirement. (VX-8M-OD-RIAW)
2MP Outdoor Dome camera: for network video surveillance applications requiring superior clarity and detail in varying lighting and weather conditions. (VX-2M-OD-RIAWH)
2MP Indoor/Outdoor Dome camera: records up to 60 frames per second, offering a high resolution, high frame rate stream. (VX-2M-OD-RIAW)
VIGIL Client offers unrivaled access to live and recorded video from any networked VIGIL Server NVR. Intelligent SmartSearch™ quickly identifies and reviews events of interest. Seamless integration with 3xLOGIC's infinias Access Control creates a complete, affordable, and powerful solution.
Erron Spalsbury, 3xLOGIC Global Director of Customer Support noted in introducing VIGIL v11.5 to the company's customers, "All of our fantastic integrations, easy setup wizards, and management tools are all still available, making this next version of software an easy upgrade that looks and feels like what our customers have grown to love and expect. There's a huge number of advancements we've made all the way through this software. I think our current customers and our new customers are going to quite pleased that we've listened to the voice of the customer and we've delivered."
About 3xLOGIC
3xLOGIC Inc. has been a leading innovator in server and cloud-based security technology for 15+ years. The company is recognized for providing easy-to-use surveillance and business intelligence solutions that seamlessly integrate video, access control, and disparate data such as ATM, Point-of-Sale, analytics, and more.
3xLOGIC's video surveillance solutions are engineered for ease of installation, scalability and affordability combined with a managed services portfolio that enables integrators to effectively evolve from dealers to high-value strategic partners. Follow 3xLOGIC on Facebook, Linked-in, or our Twitter account, and read our latest news at http://www.3xlogic.com
Press Contact North America
Bruce J. Doneff, Public Relations, 3xLOGIC
843.476.3022
bruce.doneff(at)3xlogic(dot)com
Press Contact UK and Europe
Linda Tyrrell, The Henley Group International
linda(at)henley(dot)co(dot)uk
+44 (0)1491 570972
###