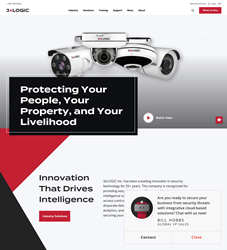 We want to connect with customers in real-time, getting them the answers and information they need NOW and from the right expert. Suzi Abell, Senior Director of Marketing
FISHERS, Ind. (PRWEB) July 23, 2020
3xLOGIC, Inc., a leading provider of integrated, intelligent security solutions today announced it has been busy moving into new space in the midst of these challenging times. If moving wasn't enough, a dedicated team has completed a re-launch of a new 3xLOGIC website, which went live on July 8th.
General Manager Brad McMullen gave us a virtual tour (by phone) of the new offices and other spaces. "Our new facilities have twice the manufacturing and warehouse space to enable us to expand capacity in line with our rapid growth. Given the current reality, there is a limited number of staff using the new offices, but plans are complete for our expanded team to move in once the time is right."
The offices boast many new capabilities compared to the old space—expanded office space for a Marketing studio, product development teams, customer meeting rooms, and an open floor plan to increase efficiency for the Technical and inside Sales teams. Planned for the near future is a hands-on training room for more onsite partner learning and a Solutions Center that will be a highly interactive user space to showcase current and future solutions.
While the new offices are readied for eventual move in, 3xLOGIC is continuing to invest in resources to further build brand and expand sales. The new 3xLOGIC website went live just recently after a number of busy months spent doing a total overhaul of the old site.
"The new site is focused on the end user experience," commented Suzi Abell, Senior Director of Marketing. "Our former site had a real integrator focus and it served our purposes quite well. The new site allows us to actively tell our story to the end user community as well to drive demand to our integration partners. Our goal was to create a tool that offers value to both the end-user and the integrator." A website promo video is here.
One of the most exciting new features is the Live Chat function. "We want to connect with customers in real-time, getting them the answers and information they need NOW and from the right expert," explained Abell. The overall user experience on the new site is greatly improved, in part powered by the site's Mobile Responsive design—rather than detecting a specific browser or device type, the website automatically orients itself based on the screen size of the device. A combination of reformatting and re-optimizing the site as a whole gives it a practical flexibility that is on par with the best sites in the industry.
There is also an expanded Where to Buy section, which highlights 3xLOGIC's fast-growing network of valued integrator partners. "Our integrators are the lifeblood of our business and now we are providing top-level service and information to those partners, as well as a memorable web experience to the many thousands of potential end users we serve," said Abell.
About 3xLOGIC
3xLOGIC Inc. has been a leading innovator in server and cloud-based security technology for 15+ years. The company is recognized for providing easy-to-use surveillance and business intelligence solutions that seamlessly integrate video, access control, and disparate data such as ATM, Point-of-Sale, analytics, and more.
3xLOGIC's video surveillance solutions are engineered for ease of installation, scalability and affordability combined with a managed services portfolio that enables integrators to effectively evolve from dealers to high-value strategic partners. Follow 3xLOGIC on Facebook, Linked-in, or our https//twitter.com/3xlogic [Twitter __title__ Twitter] account, and read our latest news at http://www.3xlogic.com
Press Contact North America
Bruce J. Doneff, Public Relations, 3xLOGIC
843.476.3022
bruce.doneff(at)3xlogic(dot)com
Press Contact UK and Europe
Linda Tyrrell, The Henley Group International
linda(at)henley.co(dot)uk
+44 (0)1491 570972