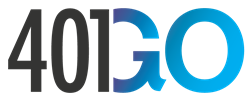 "We're excited to welcome Saad and Ryan to the 401GO team. We count ourselves extremely lucky to be able to leverage the distinctive knowledge that they have within their respective fields and the innovative ideas they both bring to the table as we enter our next stage of growth."
SANDY, Utah (PRWEB) May 17, 2022
401GO, a pioneer in the investment space that provides small businesses with the opportunity to offer employees a 401(k) program, today announced that it has named Saad Zariff as Head of Growth, as well as appointed Ryan Avila as their new Marketing Manager.
Zariff, who joins the company from Wahed Invest where he served as VP of its North American operations, has over two decades of experience in the financial services and fintech industries. In his new role, he will lead 401GO through its next growth phase as the company continues its mission to make 401(k) plans accessible to businesses of all sizes.
Avila joins the company with over 10 years' marketing experience under his belt, in which he held key VP and managerial positions across a variety of companies and industries. As this post-pandemic labor market accelerates demand for better employee benefits and 401GO's work-sponsored retirement plans, Avila will guide its product strategy and work to educate workers across the U.S. about the opportunity to invest in their futures.
"We're excited to welcome Saad and Ryan to the 401GO team," said Dan Beck, 401GO CEO. "We count ourselves extremely lucky to be able to leverage the distinctive knowledge that they have within their respective fields and the innovative ideas they both bring to the table as we enter our next stage of growth."
Beck added: "What makes Ryan a great fit for 401GO is his natural ability to move swiftly and confidently make quick decisions under pressure. As for Saad, we're ecstatic to be able to take advantage of his unrivaled expertise in the fintech field, and count on him to expand our product, partnership, and customer strategies. While we are in business to make money, our intention is to do so as a byproduct of fulfilling a need and providing value to our customers."
401GO is currently working to fill a long-standing void for small business owners by providing them with an easy and affordable way to offer their employees 401(k) programs. Fewer than half of people employed by small businesses have access to a 401(k) or pension today, primarily due to their high costs. With today's workers increasingly demanding access to better benefits, businesses of all sizes will see themselves lose out on top talent unless they offer benefits such as 401(k)s.
"401GO has been able to help hundreds of small businesses offer a simple and affordable retirement benefit, and we've brought on dozens of new partners already this year who are excited to share our platform with their clients," Saad Zariff said. "I'm proud to take on this new role. It's a gratifying job to help small business owners achieve equal footing and enable Americans working within these companies to achieve greater financial freedom through inexpensive and worry-free retirement plans."
Ryan Avila added: "I'm excited to be part of a company that has a mission to help small businesses and their employees. 401GO's entrepreneurial spirit aligns with my values and goals. Many business owners are reluctant to invest in a 401(k) plan, and it's satisfying to be a part of a company that offers an innovative product that truly solves a problem. Moreover, I consider this is a great opportunity for me, as I believe 401GO has the potential to be a billion-dollar company within the next five years."
About 401GO
Less than half of those employed by small businesses have access to a 401(k) or pension. Companies with small budgets who want 401(k) plans have been ignored or even laughed at by 401(k) providers. 401GO was founded to provide working Americans and small businesses greater financial freedom through inexpensive and worry-free work-sponsored retirement plans. Setup takes just minutes (not weeks!), pricing is economical at $9/participant, and 401GO handles all the details. With its innovative automated technology, a simple, affordable, and beneficial 401(k) plan is finally practical for small businesses. For more information visit https://www.401go.com.