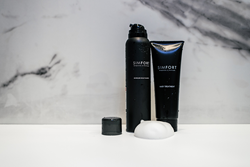 LOS ANGELES (PRWEB) May 13, 2021
They develop and sell health care products - mainly online - focused on specific concerns such as hair growth and hair-care for men and women, and skin concerns such as acne.
In the U.S., their brand SIMFORT shampoo and hair treatment for men has been available since the fall of 2019, and has gained a strong following. Within a year and a half since Seiseidou began its sales of SIMFORT, the brand has gained 40,000 new customers. Despite the impact of COVID-19, they have seen significant growth in both new customer acquisitions and sales through the subscription model, primarily based on online sales.
What is the much-talked-about SIMFORT Sparkling Scalp Shampoo?
SIMFORT Sparkling Scalp Shampoo is a highly concentrated 8,000 ppm carbonate shampoo that makes it possible to provide high-grade scalp care at home. It contains 7 ACTIVE INGREDIENTS including Swertia Japonica extract, used for skin-care and hair growth. Massaging with the carbonated shampoo stimulates blood circulation and improves scalp conditions. The average carbonate concentration of shampoo used in beauty salons is 1000 ppm. SIMFORT was co-developed with a pharmaceutical company to achieve a carbonate concentration of 8,000 ppm - 8 times more. This shampoo removes the unhealthy oils from the scalp and clogged pores that normal shampoos cannot.
SIMFORT has been featured in GQ, WIRED, and Golf Digest, among other famous magazines, and it's a hot topic on social media.
For more information about SIMFORT, click here: https://simfort.co/Press
Currently, Seiseidou is also looking for influencers. They're looking for influencers who can help spread the word about their brands.
Media contact
Staff: Yuta Otsuka
Phone: 84-2997565
E-mail: contact@seiseidou-usa.com
Company Profile
Company name: Seiseidou America, Inc.
CEO: Hiroaki Iijima
Office location: 10880 Wilshire Blvd., Suite 1101 Los Angeles California 90024 United States of America
Established in: 07/23/2019
Employees: 4
Business: E-commerce Business
URL: https://seiseidou-usa.com/