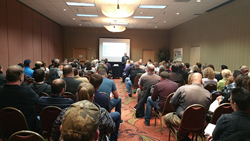 For-profit and Non-California investors and owners will now be permitted to take part in the medical marijuana industry.
Pasadena, Ca (PRWEB) September 20, 2015
Cannabis industry professionals who have invested time in education on the legislation surrounding the ever-changing industry could have a major advantage as lawmakers take steps toward regulation for the state's multi-billion-dollar medical-marijuana industry.
The series of new legislation that is expected to be signed into law has a few key provisions; these laws will offer protection for businesses and employees against prosecution under criminal law, and asset forfeiture providing the enterprise operation is in full compliance.
The legislation will make available several different types of business licenses that apply specifically to the industry and differentiate between cultivators of different sizes, plant nurseries, and dispensaries.
Medical cannabis will be subject to certain requirements that would necessitate testing and labeling in order to determine potency and contaminants.
Larger dispensaries and license holders will be able to legally deliver medical marijuana to their patients. Local government will still be able to ban some deliveries via ordinances but businesses and business owners will be protected.
For-profit and Non-California investors and owners will now be permitted to take part in the medical marijuana industry. Businesses will have more categorization options for their operations and will therefore be able to more accurately describe their individual entities.
Patients will still be permitted to grow their own medical marijuana but grow space will most likely be limited to 100 square feet and patients will be limited in their ability to give, sell, or donate cannabis to another person without a proper license.
Collectives and Cooperatives will be slowly phased out but will be allowed to operate as long as they are in compliance with local rules and ordinances until January of 2018.
Medical marijuana will be tracked and traced from the earliest stage to completion of the cycle. The names of people and their respective medical conditions will remain confidential.
The department of Consumer Affairs would be the primary agency tasked with regulating the marijuana industry. Several other agencies like the Department of Food and Agriculture and State Department of Public Health would be involved in regulating certain corresponding aspects of the industry. The Dept of Pesticide Regulation for developing pesticide standards; and the Depts. of Fish and Wildlife and State Water Board for protecting water quality.
While California was the first state to approve medical marijuana, progressive cannabis supporters fear that the state may get left behind as other states embrace recreational cannabis use along with the millions of dollars in revenue that accompanies it.
Fears aside, this most recent legislation is the most historically significant in almost two decades and paves the way for, at least, a working template for the potential regulation of marijuana if it were to become legal.
CEO of 420 College, George Boyadjian, says, "Our success has been largely due to our flexibility; our experts have a working knowledge of cannabis legislation and the various ways in which that legislation affects business owners. As the laws continue to change we adjust our curriculum to account for those changes." Boyadjian continues to state, "We're currently working on integrating the new legislation into our curriculum and plan to include course information on what we hope will be the eventual total legalization of cannabis."
420 College, one of the industry leaders, provides seminars and workshops focused on best practices, client services, cultivation, and the latest developments in cannabis policy reform and will be hosting a seminar in Pasadena October 17 & 18 to go over the new laws with attorney William McPike.