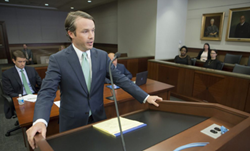 Columbus, Georgia (PRWEB) August 10, 2017
Civil Action File No. SC 15 CV 17, State Court of Muscogee County.
According to court documents, Markeese Hodge was present on the premises of Cross Keys Apartments as an invitee when he was shot and killed by Jerome Chatmon on August 6, 2014.
Court documents state that the complex was owned and managed by McCorlew Realty, Inc., a company that owns and manages roughly 800 units in Muscogee County. Prior to the shooting, McCorlew Realty was aware that they had a problem unit at this complex and that there was a lot of late night traffic coming and going from the unit. In response, the company sent the tenant a 60-day notice to vacate. No one from McCorlew Realty confronted the tenant regarding the late night activity nor did they hire anyone to monitor the property at night. Three days after sending the notice to vacate three people were shot on the premises. In addition, court documents note that the police concluded the shooting was related to the problem unit and informed the company of this. Despite knowledge that the problem unit was now associated with violence on the premises, McCorlew Realty still did not confront the tenant or hire anyone to monitor or attempt to control the premises. Instead, the company simply called the police and asked them to keep an eye on the premises. Also stated in court documents, ten days later two more people were shot at a late night gathering on the premises. One of the two individuals died, his name was Markeese Hodge.
The shooter claimed he shot Markeese in self-defense and was ultimately acquitted following a criminal trial. A premises owner or property manager is not responsible for all acts that occur on their property; however, a premises owner or property manager must exercise ordinary care to attempt to keep its premises safe. This includes taking reasonable steps to attempt to prevent or deter foreseeable crime.
Over two and a half years Shiver Hamilton, thoroughly investigated and litigated the case marshaling the evidence necessary to establish that Markeese's death was the result of McCorlew Realty's failure to appropriately monitor and control its premises. McCorlew Realty continued to deny liability never offering more than $25,000. The case proceeded to trial in July, 2017. After a week of evidence the jury took roughly five hours to return a $4.5 million verdict in favor of the Plaintiffs.
When a property owner or manager fails to take appropriate action to attempt to monitor and control its premises the injured party may be entitled to compensation. Unfortunately, more often than not in these types of case it takes aggressive litigation and a willingness to take a case to verdict to get a property owner or manager to appreciate its liability and to appropriately compensate an injured party or the family of a deceased victim. The attorneys at Shiver Hamilton have a proven track record of obtaining favorable verdicts and settlements for people who have suffered due to the negligence of property owners and managers.
The verdict achieved by Shiver Hamilton in this case was not only a victory for Markeese's family, but also a victory for all Georgia citizens as affirmation that property owners and managers will be held responsible when they fail to fulfill their duties to monitor and control their properties.