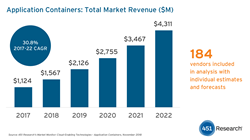 "The container space remains an attractive market not only from an end-user demand perspective, as evidenced by adoption data from 451 Research's Voice of the Enterprise service, but from a competitive landscape perspective as well."
NEW YORK (PRWEB) December 05, 2018
The latest applications container market research from 451 Research, leading technology analyst and advisory firm, indicates this market will continue to expand and be worth more than $2.1 billion in 2019 and more than $4.3 billion in 2022 – a compound annual growth rate (CAGR) of 30%, according to the latest Market Monitor Cloud-Enabling Technologies – Application Containers study.
When 451 Research first published a forecast on the container market two years ago, there were 125 companies identified in the analysis. Included in the most recent update is an examination of 184 competing vendors, just shy of a 50% increase from the number of players in late 2016. While the revenue contribution from containers for the vast majority of participating vendors is still relatively small, the widespread interest in container technology remains a defining feature of this emergent market.
"The container space remains an attractive market not only from an end-user demand perspective, as evidenced by adoption data from 451 Research's Voice of the Enterprise service, but from a competitive landscape perspective as well," said Greg Zwakman, 451 Research Vice President, Market and Competitive Intelligence.
Growth in the containers market and ecosystem is being driven by increasing enterprise interest to help application developers move faster, manage infrastructure more efficiently and meet digital transformation goals. According to 451 Research's Voice of the Enterprise: Servers and Converged Infrastructure, Workloads and Key Projects 2018, about half of enterprise organizations are either using containers today or planning to use them in the next two years.
"The promise of container technologies to increase developer speed, efficiency and portability across hybrid infrastructures, as well as microservices, are all driving growth," said Jay Lyman, 451 Research Principal Analyst. "Broader and deeper vendor participation along with increasing enterprise use indicate this market will continue to grow and as that growth continues, consolidation in the market is likely."
The research also indicates that both startup vendors and established giants in the enterprise software industry are tackling a variety of container use cases across areas such as management and orchestration, monitoring, DevOps, security, networking and storage. This is not only indicative of the broad applicability of container-based technologies, but also highlights how revenue is spread across a diverse supplier landscape. The openness of this market may encourage a variety of additional vendors to enter the container market and fuel further growth.
"The industry is already seeing these mergers and acquisitions that include IBM's recent acquisition of Red Hat and VMware's purchase of Heptio. These recent deals demonstrate how the container market is ripe for more consolidation as well as growth," added Lyman.
Jay Lyman dives into his impressions of the IBM/Red Hat acquisition and its impact on the market on the 451 Blog.
To request a media briefing with Jay Lyman regarding this Market Monitor, email media.inquiry@the451group.com.
Contact your sales representative or email sales@the451group.com to find out how you can access the data or learn more about the research.
About Market Monitor & Forecast
Application containers is one of the seven sectors covered in the Cloud-Enabling Technologies (CET) Market Monitor. Like other 451 Research Market Monitor research and analysis, our container market sizing data is based on individual revenue models and estimates of more than 180 vendors in the market. Each model contains intelligence specific to that company (e.g., customers, pricing, deal sizes and trends) with a forecast that incorporates the unique traits, strengths and weaknesses of the vendor.
451 Research's Market Monitor & Forecast provides a five-year forecast of total revenues, market participants, public/private distributions and growth rates across multiple sectors and companies that make up specific marketplaces. Market Monitor & Forecast uses a bottom-up analysis with individual estimates and forecasts for each market participant rather than relying on historical or related data, applying broad assumptions or extrapolating market totals based on input from a handful of large vendors (a top-down approach). These reports deliver unprecedented vendor- and segment-level visibility into the revenue makeup and growth trajectory of the market.
About 451 Research
451 Research is a leading information technology research and advisory company focusing on technology innovation and market disruption. More than 100 analysts and consultants provide essential insight to more than 1,000 client organizations globally through a combination of syndicated research and data, advisory and go-to-market services, and live events. Founded in 2000 and headquartered in New York, 451 Research is a division of the 451 Group. Learn more and connect with 451 Research on Twitter and LinkedIn.