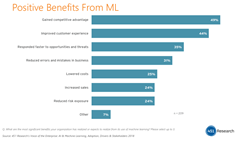 NEW YORK (PRWEB) September 13, 2018
New York, NY, September 13, 2018 – 451 Research announced its Voice of the Enterprise (VoTE): AI & Machine Learning – Adoption, Drivers and Stakeholders 2018 survey results today that suggest most organizations are adopting or considering adopting machine learning due to its benefits, rather than with the intention to cut people's jobs.
Despite being new, there is a healthy amount of adoption of these technologies already. Almost 50% of survey respondents have deployed or plan to deploy machine learning in their organizations within the next 12 months. According to Nick Patience, founder and research vice president for software at 451 Research, this paints a more realistic picture of machine learning adoption than is often portrayed.
"Out of many possible benefits we presented to our survey respondents, almost half (49%) cited gaining competitive advantage as the most significant benefit they have received from the technology. Improving the customer experience came a close second, cited by 44% of respondents. Despite all the hype around mass job losses, lowering costs was cited by only a quarter of our survey respondents," he said. "We think this demonstrates that AI and machine learning is an omni-purpose technology that can bring numerous benefits to organizations, beyond just lowering costs through increased automation."
Alternatively, respondents say the most significant benefit they have realized or expect to realize are competitive advantages (49%) and an improved user experience for their customers (44%). This seems to indicate that decision-makers care more about the long-term impact that comes from gaining and retaining customers rather than a short-term fix that comes from cutting costs.
There are some barriers, however. When asked "what is your organization's most significant barrier to using machine learning?" most cited a shortage of skilled resources as the top barrier (36%).
Skilled resources in the context of machine learning usually means data science skills. And a lack of those skills is reinforced further by the finding that data access and preparation is the second biggest barrier cited by survey respondents.
451 Research expects the lack of skills to gradually decline as a barrier as tools become easier to use and the population of users who can leverage machine learning expands. When all is said and done, organizations large and small will need more personnel to ensure their machine learning deployment brings the business benefits that matter most. To find out more about what respondents believe the macro and micro impact AI and machine learning will have on society and their organizations, check out this blog post by Nick Patience on the 451 Research blog.
About Voice of the Enterprise (VoTE): AI and Machine Learning
This newest VoTE survey research report provides actionable data and insight and a broad, integrated view of enterprise AI/machine learning strategies and initiatives, their underlying business and technology driver, and the nature, pace and direction of AI/machine learning adoption. Data was collected via roughly 550 web-based surveys conducted with IT end-user decision-makers around the world from small, midsize and large enterprises in both private and public sectors. This research includes comprehensive, survey-driven analyst reports with customizable data deliverables. The next survey is planned for delivery in Q4 2018, focused on use cases and benefits for AI and machine learning across many vertical industries.
About 451 Research
451 Research is a leading information technology research and advisory company focusing on technology innovation and market disruption. More than 100 analysts and consultants provide essential insight to more than 1,000 client organizations globally through a combination of syndicated research and data, advisory and go-to-market services, and live events. Founded in 2000 and headquartered in New York, 451 Research is a division of the 451 Group. Learn more and connect with 451 Research on Twitter and LinkedIn.