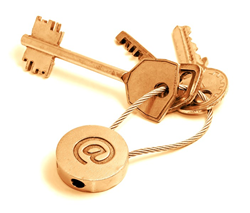 Remember that your corporate email does not belong to you. It belongs to the corporation.
HOBOKEN, N.J. (PRWEB) September 13, 2018
A NYC area IT consultant and MSP shares common sense email security tips to safeguard personal, corporate and consumer data in a new article on the eMazzanti Technologies website. The article is the first in a series highlighting the expertise of staff members in the company's new Montreal office.
The informative article acknowledges growing cyber-security threats, particularly in relation to email and lists four ways to protect against cyber-criminals seeking to exploit email vulnerabilities. It advises readers to be aware of common phishing schemes, keep business and personal email separate, share files wisely and double-check target email addresses.
"Email can be the lifeblood of an organization," stated Jennifer Mazzanti, CEO, eMazzanti Technologies. "Business leaders should take reasonable and necessary steps to protect this vital productivity and collaboration tool."
Below are a few excerpts from the article, "4 Common Sense Email Security Tips to Safeguard Vital Business Information"
"Most of us spend a significant portion of our work day sending or responding to emails. In fact, a 2017 study reports that the number of emails sent and received each day, worldwide, exceeds 269 billion. As the number of emails grows, so do the number of email threats."
1. Be Aware of Common Phishing Schemes
"Cyber criminals employ increasingly sophisticated tactics to gather personal information from users by sending phishing emails that appear to come from trusted sources. For instance, an email purportedly from your bank or a vendor with whom you have an account may ask you to verify your password or credit card information."
2. Keep Business and Personal Email Separate
"Remember that your corporate email does not belong to you. It belongs to the corporation. For your own privacy and for the security of the company, reserve your corporate email account for business communication."
3. Share Wisely
"When it comes to files, think carefully before you email that link. Share only the information that needs to be shared and only with the people who need to use it. Review your shared folders regularly. Information that was valid last month may no longer be valid today."
Email Security Depends on Humans
Companies that have invested in multi-layer email security and comprehensive network security are further ahead in protecting vital corporate and customer data. However, the human element remains the most unpredictable factor in safeguarding information assets.
When properly used, email streamlines communication and provides essential documentation. Business leaders should take the time to educate themselves about emerging email security threats. With consistent effort, they must implement best practices to ensure that they are getting the most out of a valuable tool.
Related resource information:
eMazzanti Technologies Brings Award-winning, Revenue-generating Managed IT Services to Montreal Businesses
eMazzanti Technologies to Celebrate 17 Years of Customer Success and Growth in Style
About eMazzanti Technologies
eMazzanti's team of trained, certified IT experts rapidly deliver retail and payment technology, digital marketing services, cloud and mobile solutions, multi-site implementations, 24×7 outsourced network management, remote monitoring and support to increase productivity, data security and revenue growth for clients ranging from law firms to high-end global retailers.
eMazzanti has made the Inc. 5000 list eight years running, is a 2015, 2013 and 2012 Microsoft Partner of the Year, 2016 NJ Business of the Year, 5X WatchGuard Partner of the Year and one of the TOP 200 U.S. Microsoft Partners! Contact: 1-866-362-9926, info@emazzanti.net or http://www.emazzanti.net Twitter: @emazzanti Facebook: Facebook.com/emazzantitechnologies.