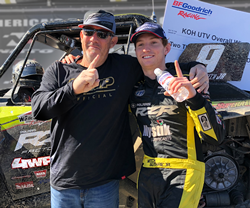 We are excited to see our long-time friend Mitch Guthrie Jr. take home his second UTV title at Hammers and do it in back-to-back fashion. 4WP made a statement arriving with such a talented group to represent our brand.
COMPTON, Calif. (PRWEB) February 05, 2019
Last weekend, the UTV King of the Hammers podium was once again topped by a champion named Guthrie. Mitch Guthrie Jr., son of KOH legend Mitch Guthrie Sr., set the fastest qualifying time on Saturday. He then took command of the 160-mile race on Sunday, finishing in 4:52:33 and beating second- and third-place drivers Wayland Campbell and Branden Sims by a dominant 27 minutes.
The race was won in the perilous rock-crawling sections as Guthrie Jr. took full advantage of his experience in the Johnson Valley environment, where he practically grew up watching and assisting Guthrie Sr. capture six KOH-UTV titles. The 91-mile loop started off as a speed duel through the desert with Phil Burton and Kyle Chaney but changed demeanor quickly as it moved into treacherous rock sections like Outer Limits and Spooners.
"We've been doing a lot of pre-running this week. The rocks are where it counts, and we had some great lines through them," said Guthrie Jr. at the finish line. "We never even had to wrench."
As first-time members of the 4 Wheel Parts (4WP) UTV racing team, Guthrie Jr. and Guthrie Sr. piloted and debuted the all-new 2019 Polaris RZR Turbo-S Velocity Series. It was equipped with basic safety features required by the sanctioning body, including a roll cage, racing seats, belts, full doors and window nets. Both RZRs featured stock powertrains to prove the platform's durability in real-race conditions.
4WP President Craig Scanlon and long-time co-driver Keith Redstrom qualified for the race and for the first time switched seats to have some fun. They faced challenges but ran consistently all day to finish in 15th place overall.
"We are excited to see our long-time friend Mitch Guthrie Jr. take home his second UTV title at Hammers and do it in back-to-back fashion," said Joey DiGiovanni, 4WP Director of Creative Marketing & Partnerships. "We congratulate him on his win and to Scanlon Motorsports on their solid finish."
4WP drivers Sara Price and Mitch Guthrie Sr. had impressive qualifying runs, finishing 7th and 12th respectively out of 100 drivers on a windy and rainy day, but did not finish the course on Sunday. Price and her co-driver Erica Sacks, the only all-female team at KOH, had a rough outing. Their Polaris RZR Turbo-S rolled at one point and they had some mechanical issues, but the team continued fighting hard and got an unofficial finish. Guthrie Sr. was fast out of the gate but nearing the end of Lap 1, hit an unmarked G-Out at over 60 mph. The safety gear worked perfectly and both driver and co-driver were fine. They even drove the car all the way back to the finish line so Guthrie Sr. could shift his focus to rooting for his son, Guthrie Jr.
"I couldn't be more proud of our #4WPofficial team of racers in the UTV class at KOH," said DiGiovanni. "4WP made a statement arriving with such a talented group to represent our brand."
4WP is a powerhouse in the growing $10-plus billion Jeep and truck accessory market and this partnership signals a new commitment to bind the entire powersports community together. 4WP sells and installs an extensive line of aftermarket parts and accessories for off-road enthusiasts through 94 brick-and-mortar stores in North America and online at http://www.4WP.com. This month, 4WP launched a nationwide "4WP SxS Giveaway" Sweepstakes where one lucky customer will receive a brand new 2019 Polaris side-by-side UTV. The winner will have his or her choice of a 2-seat 2019 Polaris RZR XP® 1000, a 3-seat 2019 Polaris RANGER XP® 1000 or 2-seat 2019 Polaris GENERAL® 1000. No purchase is necessary. Full sweepstakes rules can be found at http://www.4wheelparts.com/a/sxs-giveaway
Media Library: bit.ly/4WP_KOH_2019