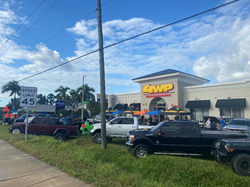 COMPTON, Calif. (PRWEB) November 18, 2021
4 Wheel Parts (https://www.4wheelparts.com), the largest retailer of 4x4 and off-road products globally, is excited to share the news that they have just opened a new store location in Fort Myers, Florida. The Ft. Myers location marks the 98th store for 4 Wheel Parts in the US, opening as the 8th location in Florida. To mark the opening, 4 Wheel Parts welcomed a BFGoodrich Tires and Truxedo Tonneau Covers to help give customers an inside look at the aftermarket brands. The Fort Myers store marks the 98th store in anticipation of bringing their store count to 100 by the end of the year.
Store Location:

14380 S. Tamiami Trl
Fort Myers, FL 33912
Hours:
Sunday: Closed
Monday: 9 a.m. - 6 p.m. (Local Time)
Tuesday: 9 a.m. - 6 p.m. (Local Time)
Wednesday: 9 a.m. - 6 p.m. (Local Time)
Thursday: 9 a.m. - 6 p.m. (Local Time)
Friday: 9 a.m. - 6 p.m. (Local Time)
Saturday: 9 a.m. - 3 p.m. (Local Time)
More information is available at: https://www.4wheelparts.com/
About 4 Wheel Parts
4 Wheel Parts is a powerhouse in the growing $10-plus billion truck, Jeep and 4X4 accessory market. A division of Transamerican Auto Parts (TAP Worldwide, LLC), and acquired by Polaris Industries Inc. in 2016, 4WP sells and installs an extensive line of industry-leading aftermarket parts and accessories for off-road enthusiasts through 95 brick-and-mortar stores in North America and online at 4wheelparts.com and 4wd.com. More than 500 aftermarket auto brands are offered through 4WP, including off-road tires, wheels, suspension, drivetrains, exterior/interior accessories, recovery equipment, lighting, electronics, replacement parts, and gear for the outdoor/camping lifestyle.