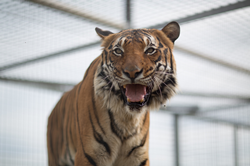 German cat toy manufacturer 4cats Heimtierbedarf produces supersized toys for Tigers and other big cats.
LONDON (PRWEB) February 28, 2019
4cats Heimtierbedarf GmbH has worked with Hamerton Zoo Park on an enrichment campaign to provide the resident wild cats and Big cats with fun supersized versions of their cats toys.
Many owners already understand the alluring effect of valerian and catnip on their house cats but when people think of Tigers & Lions they often think of vicious hunters that are not much into playing with toys. However, this is totally wrong, just like small feline companions big cats are very playful and intelligent - the only difference being that a playful swipe of their paws could cause more than a mere scratch to humans.
And like house cats, they need to be entertained! For this reason, German cat toy manufacturer 4cats developed supersized versions of many of their popular cat toys. These supersized versions are made of strong sisal rope and coloured with vegetable juice such as beetroot to ensure that they are not toxic to the big cats. The toys are filled with a mix of hay and cat attract such as valerian in order to be of interest to the big cats.
These toys are provided by 4cats free of charge as part of their efforts to support conservation projects of endangered species of wild cats and provide Zoos such as Hamerton Zoo Park not just with a great toy for their big cats to play with but also a visitor attraction as many people can simply not believe how much fun these big cats have with their toys.
What many people don't realise is that the use of cat attract goes back hundreds of years as it's been used to lure Tigers and Lions long before the pet industry started using it for the toys of house cats.
About 4cats Heimtierbedarf GmbH:
4cats are a family run business that specialises in high-quality valerian and catnip toys. For the catnip toys they use a special formula of catnip that is their own creation and is called 4catsnip. Through long testing and trialling they found that this particular mixture works especially well even for cats that usually don't react to catnip at all! While they won't disclose their special recipe they can certainly confirm that it is 100% organic and of high quality.
All of their cat toys are 100% designed, made and packed in Germany in their premises in Stolberg by Aachen. They only use high-quality ingredients and material and all toys undergo the highest quality assurance to ensure that customers are satisfied and their cats will have long lasting fun and entertainment with them.
About Hamerton Zoo Park:
Hamerton Zoo Park is an animal park set in 25 acres of beautiful Cambridgeshire countryside. They specialise in rare, endangered and unusual animals, some of which can only be found in this park in the UK.