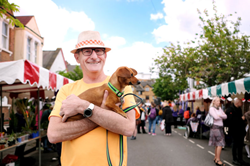 LONDON (PRWEB) August 16, 2019
4cats Heimtierbedarf GmbH is delighted to be sponsoring the Mayhew Cattery for this year's Open Day Event.
Save the date and join the street party at Mayhew for a day of activities and a unique look behind the scenes at the work Mayhew does for animals and the community.
Visitors can visit the Cattery and meet the residents awaiting homes, tour the Veterinary Clinic and relax in the garden with veggie BBQ, live music and outdoor games. There will also be plenty of stalls to browse with treats for owners and their furry family members such as the 4cats catnip and valerian toys!
The annual Open Day is a very important event for the charity as it encourages the community to get together for a fun family day out while raising much needed funds for the charities welfare efforts.
Tickets: Tickets will be available on the door priced at £3 for adults and £2 for children and concessions.
Location: Mayhew Animal Home, Trenmar Gardens, NW10 6BJ
Nearest Tube: Willesden Junction or Kensal Green (on street parking is available first come first serve however the streets do get very busy and we would recommend public transport)
About Mayhew:
Mayhew is an animal welfare charity working to improve the lives of dogs, cats and the people in the communities at home in London and internationally. They rescue hundreds of cats and dogs every year, provide veterinary care to thousands, and deliver community projects that improve the lives of both animals and people across the globe.
About 4cats Heimtierbedarf GmbH:
4cats are a family run business that specialises in high-quality valerian and catnip toys. For the catnip toys they use a special formula of catnip that is their own creation and is called 4catsnip. Through long testing and trialling they found that this particular mixture works especially well even for cats that usually don't react to catnip at all! While they won't disclose their special recipe they can certainly confirm that it is 100% organic and of high quality.
All of their cat toys are 100% designed, made and packed in Germany in their premises in Stolberg by Aachen. They only use high-quality ingredients and material and all toys undergo the highest quality assurance to ensure that customers are satisfied and their cats will have long lasting fun and entertainment with them.