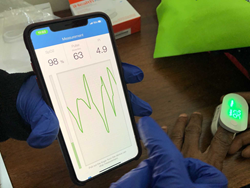 "We developed the COVID-19 monitoring platform to greatly minimize the demands on in-person primary care, urgent care and emergency departments across the country; it can also reduce unnecessary risks to patients and care teams from further exposure to this highly infectious virus" - Star Cunningham
CHICAGO (PRWEB) March 25, 2020
Healthcare technology company, 4D Healthware, has joined the fight against the spread of the COVID-19 virus with its new COVID-19 monitoring platform, which enables remote monitoring, physician and lab supported diagnosis and at home treatment for potential COVID-19 patients. After equipping patients with Wi-Fi enabled T-Mobile digital tablets programmed with 4D Healthware's COVID-19 protocols, the company surrounds the patient with a virtual "4D Clinical Care Team" and tools to keep tabs on the condition of people believed to be exposed to the novel Coronavirus while under self-quarantine.
"With the rapid spread of the COVID-19 virus across the country and the need to have the general public self-quarantine, remote monitoring and treatment have become critical," said 4D Healthware CEO, Star Cunningham. "We developed the COVID-19 monitoring platform to greatly minimize the demands on in-person primary care, urgent care and emergency departments across the country; it can also reduce unnecessary risks to patients and care teams from further exposure to this highly infectious virus."
Using T-Mobile's state-of-the-art 4/5G wireless network to ensure remote connection, 4D Healthware estimates assisting approximately 500,000 patients across the country. Remote patient assistance could include collecting biometrics including, taking their temperature reading with a wireless-enabled thermometer. In addition, 4D can monitor the oxygenation level in patients remotely allowing them the ability to engage with the patient when oxygenation levels decrease to a level where the patient needs hospital care.
According to former Cook County Illinois Health Commissioner, Dr. Stephen Martin, 4D Healthware's digital tablet solution overcomes a significant health inequity barrier faced by communities who don't have access readily to internet services in the home due to cost and digital equipment to connect to innovative health services like telemedicine.
"4D's approach, with their digital tablet solution, will assist communities that might be hardest hit by COVID-19, such as seniors on fixed income or those where telemedicine is the only option," said Dr. Martin. "Their system certainly can help alleviate further stress on our already burdened healthcare system."
Complementing 4D Healthware's virtual COVID-19 specific protocols is an always-on-call COVID-19 Clinical Care Team consisting of physicians, RN, PA, MA, LCPC, social workers, nutritionists, dieticians and other clinical and wellness resources. The service also enables patients to easily fill-out the COVID-19 screening questionnaire.
Cunningham added, "the 4D COVID-19 Clinical Care Team monitors and guides self-care until the patient needs to get local care provider support for additional testing and health services."
"Patients who are quarantined are also supported with behavioral health services, if needed, to help manage stress, anxiety, depression and other challenges. Social services are engaged to assist with issues related to social determinants of health like food, supplies and medications," said Cunningham.
The company says their Enhanced Telehealth platform is a simple technology implementation and can be integrated with any EHR system quickly, efficiently and with minimal disruption. It can also reduce ER visits by 25% and delivers a 95% retention rate among engaged patients. The platform allows secure HIPAA compliant 2-way 24-hour communications.
ABOUT 4D HEALTHWARE:
Founded in 2012, Chicago-based 4D Healthware, LLC is a fast-growing healthcare technology company that develops preventative technology that can remotely monitor and predict shifts in an individual's health. The company has been recognized as a rising star in the healthcare tech space by globally respected publications including Inc. Magazine and Vanity Fair. 4D Healthware has also been listed in Crain's Chicago Tech 50. For more information visit https://www.4dhealthware.com/
# # #