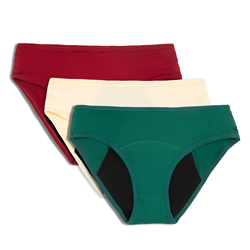 "With the current climate, our underwear is easing much of the frustration among women and giving them the peace of mind knowing they won't experience any disruption when stocking up on menstrual supplies."
MEMPHIS, Tenn. (PRWEB) November 10, 2021
The massive disruption in the global supply chain industry affects many industries, including personal care and menstruation products. 4Period is aware of the dilemma and is actively working to ensure its clientele receives its essential high absorbency underwear in a timely and cost-effective manner.
With consumer goods manufacturers raising prices due to the scarcity of items, the public is increasingly looking elsewhere for affordable solutions. 4Period has not needed to increase their price tags, with offerings starting at $13.50. Orders ship from Canada within 24 to 48 hours, with consumers receiving items in three to five business days. Overseas orders are accepted as well. The brand also sells on Amazon.
4Period says they have planned ahead with material manufacturers and shipping resources to guarantee no interruption in product delivery. Its consumer base includes those looking for moisture-wicking leak protection for menstruation, postpartum, or urinary incontinence.
"We all recall the recent surge to stock up on toilet paper," says Cristian Clements, Founder of 4Period. "Now the focus has shifted to overall personal care items, and we see drastic results because of it, with skyrocketing prices and the inability to stock store shelves. At 4Period, we founded the brand to bring economical and sustainable offerings to consumers globally. With the current climate, our underwear is easing much of the frustration among women and giving them the peace of mind knowing they won't experience any disruption when stocking up on menstrual supplies."
4Period is a woman-owned brand that has long been at the forefront of encouraging women and teens to switch to period panties for the good of the environment. Women will spend approximately 6.25 years of their life, equaling 2,280 days, on their period. Menstrual products negatively affect the environment when thrown in landfills and our oceans. 4period is an eco-friendly and practical protection option that works to make a difference.
For more information, visit http://www.4period.co.
About 4period:
4period offers eco-friendly, absorbent, leak-proof panties with front and back protection for teens and adults. Wear, wash, repeat. Not looking for leak-proof panties? They also offer a traditional line of panties with a black inside gusset.