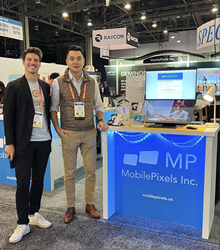 "Following a week filled with thousands of product debuts showcasing innovation that will improve the world and address global concerns, CES 2023 was an amazing triumph in global innovation challenges being overcome using the latest in technology."
LAS VEGAS (PRWEB) January 09, 2023
With more than 100,000 attendees and 4,000 exhibitors, innovation was everywhere at the 2023 Consumer Electronics Show as digital marketing agency Enventys Partners announced their picks for the fourth-annual NICE Awards.
To be eligible for a NICE Award, a product or company must display how they're making strides to grow their industry by using technology in a new, innovative way. The eligible products or companies must also exhibit at CES in Las Vegas.
While at CES, judges from Enventys Partners walked the floor and listened to pitches from many companies in their search for the latest and greatest new products. The companies and products that received a NICE Award include Mobile Pixels, Power1, Moonbikes, Aspara, BLOK, Bird Buddy, Food Cycler and Dr. Friend.
"This year's Consumer Electronics Show has seen an amazing amount of new technology come to market utilizing the latest and greatest trends in technology," said Roy Morejon, President of Enventys Partners. "Following a week filled with thousands of product debuts showcasing innovation that will improve the world and address global concerns, CES 2023 was an amazing triumph in global innovation challenges being overcome using the latest in technology."
Notable projects among this year's winners include Geminos, stacked screens for enhanced productivity which raised more than $2.1M on Kickstarter, Power1, a modular phone case that protects and charges both an iPhone and AirPods, and BLOK, a smart cutting board offering virtual cooking classes that's been dubbed the 'Peloton of the Kitchen.'
To learn more about the NICE Awards, visit http://niceawards.org/.
About Enventys Partners
Enventys Partners is the industry's only full-service, turnkey product launch agency. They combine start-to-finish, all-encompassing product development services with digital marketing expertise to create innovative products and bring them to market. For more than 20 years, clients have utilized their combined services to take their consumer product from napkin sketch to production. For more information, visit https://enventyspartners.com/.