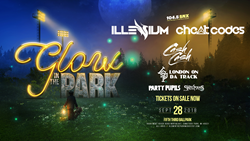 Attendees looking for a quick break from the music can participate in electric bike and hoverboard races (Swagtron) on site or chill in the Glow Zone.
GRAND RAPIDS, Mich. (PRWEB) August 31, 2018
iHeartRadio's 104.5 WSNX, West Michigan's #1 Hit Music Station, presents a new electronic music festival in the Grand Rapids area. This event will be the first of its kind to occur at Fifth Third Ballpark, home of the West Michigan Whitecaps. With a head lineup boasting multi-platinum artist Cheat Codes and the red hot bass producer, Illenium, this event is sure to leave the the crowd fully charged with melodic, bass fueled vibes for days to follow.
On top of two of the largest names in future bass, Cash Cash, The Party Pupils, SN0WMASS and London On Da Track are scheduled to kick off the show. Glow in the Park will also feature a silent disco overlooking the main stage which will showcase a full line up of the finest upcoming talent West Michigan has to offer. To top everything off, attendees looking for a quick break from the music can participate in electric bike and hoverboard races (electric bikes courtesy of Swagtron) on site or chill in the Glow Zone.
SOCIALS: @GLOWPARKFEST
DATE:
Friday Sept. 28th, 2018
LOCATION:
Fifth Third Ballpark, 4500 West River Dr. NE, Comstock Park, MI 49321
LINEUP:
CHEAT CODES / ILLENIUM
CASH CASH
LONDON ON DA TRACK
PARTY PUPILS / SN0WMASS
TICKETS AND INFO: https://glowintheparkmusicfest.com
HOST:
HOSTED BY THE VOICE OF DANCE MUSIC (VODM), DAMIAN PINTO
ATTRACTIONS:
ELECTRIC BIKE & HOVERBOARD RACES from SWAGTRON
GLOW ZONE (a place to chill)
SILENT DISCO (local lineup TBA)
VISUALS:
VISUALS BY NEW D MEDIA ARTS (NDMA)
TICKET TIERS:
Tier 1 GA Super Early Bird: $20 (done)
Tier 2 GA Early Bird: $33 (done)
Tier 3 GA: $59
GA is allowed everywhere on the festival grounds outside of the main center stage pit, has grounds level viewing
PIT: $99
Center stage pit viewing experience with controlled access points
VIP PIT GLOW ROOFTOP LOUNGE EXPERIENCE: $119
Enjoy center stage pit viewing, plus an exclusive VIP BAR in the ROOFTOP LOUNGE and FREE FOOD all night.
ABOUT THE ARTISTS:
CHEAT CODES
Euphoric and effervescent, Cheat Codes have it figured out. Perfectly blending pop and electronic music, the LA based 4x platinum three piece seem to know something that we don't know - they've figured out the secret to life, or at least a way to jump right to the good part.
Comprised of Trevor Dahl, Matthew Russell and Kevin Ford, the group have seen a meteoric rise since they first formed in LA two years ago. "Matt and I met like 5 years ago, and we lived tog ether a few different times since then," Trevor explains. "We never really made music together seriously. But when I moved to LA, Matt and Kevin started to write and we worked on a song together, and that's when it all happened."
Releasing music independently, the group were an overnight success with their hits "Turn Me On," and the tropical infused re-work of Salt N Pepa classic, "Sex", that generated half a billion streams on Spotify.
Since their first single with 300 Entertainment, "No Promises" ft.Demi Lovato, the group have gone on to cement themselves as one of the fastest growing pop and electronic acts. "No Promises" proved to be the song of Summer 2017 -peaking at #5 at POP Radio, the song has reached 4X Platinum status globally with over 600 million cumulative streams and has surpassed 1 million sales equivalents in North America. "No Promises" was nominated for a Teen Choice Award, a Radio Disney award, Billboard Music award, as well as iHeart Radio Award. Cheat Codes performed "No Promises" with Demi on both The Tonight Show Starring Jimmy Fallon and Good Morning America.
ILLENIUM
Denver based Nick Miller, better known by his stage name ILLENIUM, has won the hearts of dance music aficionados worldwide through his captivating remixes and enthralling original productions. While there are a myriad of melodic bass producers on the scene, ILLENIUM has distinguished himself with his unrivaled ability to create immersive emotional experiences.
Displaying an adeptness for creating aural arrangements that vary in style, beauty, complexity, and emotional depth, ILLENIUM's impeccable sound design has truly established him as one of the best producers in the game. His stunning records come to life in his live show, incorporating keyboards, drum pads, and cutting-edge lighting and visuals, all of which combine to create an immersive experience.
ILLENIUM just released a brand new track entitled "Take You Down" on August 3rd which will continue to propel his already wildly successful career to the upper echelons of the electronic music scene.
CASH CASH
In today's world of electronic music, there are few rules. Artists are freer than ever to write, record, and color outside the lines. For Cash Cash, the New York City based group known for their infectious dance music, this is the creative, anything-goes climate they've been waiting for.
Cash Cash is an electronic music trio originally hailing from the Garden State and currently signed to Big Beat/Atlantic Records. The group consists of brothers Jean Paul Makhlouf and Alex Makhlouf, as well as life-long friend Samuel Frisch. Together, the three DJ/Producer/Multi-instrumentalists record, mix and master all of their music.
Their touring history includes a laundry list of main stage festival sets and their own headline residencies in Las Vegas and Atlantic City. For Cash Cash, the collaborating doesn't stop in the studio, as they continue to bring their features and outside artists to their shows. Their guests have included artists such as Wiz Khalifa, Busta Rhymes, French Montana, Rae Sremmurd, ILoveMakonnen, Bebe Rexha, Lil Dicky & E40. Their new 2017 residency with Hakkasan Group has the trio in Las Vegas frequently across venues Hakkasan, Jewel, Wet Republic and Omnia; starting the next chapter of Cash Cash.
LONDON ON DA TRACK
London Holmes, better known by his stage name London on da Track, is a producer, songwriter, and rapper. He has been making waves by collaborating with artists such as 2 Chainz, Young Thug, and Drake. He also worked with 2 Chainz, producing and writing for the track section on the 2016 Lil Wayne collaboration album, ColleGrove.
PARTY PUPILS
Future funk electronic duo Party Pupils comprised of collaborative vocalist MAX and producer RyanEXOE. This duo first gained recognition with their funky remixes for artists like Jai Wolf, Lost Kings, and D.R.A.M. and have only continued to impress with their growth and debut single "Patient".
SN0WMASS
From the frosty depths of the Midwest comes the newest melodic bass artist to hit the electronic music scene. As a snowboy, SN0WMASS immersed himself in dark, edgy alternative music - playing in garage bands all over town. Around the time he graduated to receiving his top hat, he started growing an appreciation for that similar innovative esoteric electronic music sweeping the nation. Since then, he's devoted his like to the art - spending night after night in his freezing igloo with just enough heat to keep his desktop alive. After spending some time dominating the Hype Machine charts, he decided to take a year off to lock himself in his mountain peak studio. Now, fully rebranded, he's equipped with two albums worth of music, an ice cold team, and the drive to take this to the next level. 2018 will forever be known as the year SN0WMASS came to life.
###