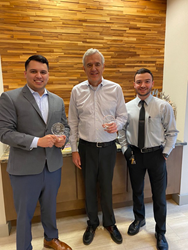 HOUSTON (PRWEB) April 24, 2020
500 Crawford is a downtown Houston apartment that has been recognized among the Elite 1% properties in the nation with the best online reputation for 2019. This is the second year in a row these Houston downtown apartments near the Medical Center have been recognized with the industry-specific prestigious award, as well as having a 5.0 Google rating from current and past residents. The most recent independent audit and award was just announced.
The Elite 1% ORA™ Power Ranking is an annual ranking developed by J Turner Research, which just released their findings. Based on monthly online reputation research of over 116,000 apartments across 21+ review sites and Internet Listing Services (ILSs), J Turner assigns an independent Online Reputation Assessment Score (ORA™ Score) to each property, and this score determines a property's rank. J Turner Research is an independent market research and online reputation management company exclusively serving the multifamily industry.
For 2019, a total of 1,290 properties earned the Elite 1% distinction. To be eligible for this ranking, a property had to register a minimum ORA™ score of 90. For properties with the same ORA™ score, the property with the higher number of reviews ranked higher. The national average ORA™ is 63.05. 500 Crawford is a luxury Houston downtown apartment community that scored 92, well above the national average of 63.05. The ORA™ score is the multifamily industry's standard to measure and benchmark a property's online reputation.
These downtown Houston apartments offer an ideal location next door to the Houston Astros, a brand-new dog park, five-star customer service, two sparkling resident pools, two on-site restaurants and a ton of other grand amenities. Offering 10 spacious floor plans near the Medical Center, all with spacious and enviable designs, it's no wonder these Houston luxury apartments continuously rank at the top for their ideal downtown Houston location and all the amenities that come standard.
The annual Elite 1% ranking is part of the ORA™ Power Ranking series published by Multifamily Executive (MFE). Each month, MFE features a ranking of properties and management companies based on their ORA™ scores. A property or a management company does not have to be a J Turner Research client to qualify for this ranking. Learn more about ORA™.
"We take immense pride in being recognized as an ORA™ Elite 1% 2019 property by J Turner Research. Our team has worked diligently to engage with residents and prospects to exceed their expectations throughout the year. ORA™ offers a method to measure and benchmark their efforts to excel in online reputation management. Congratulations to our team, and thank you to our residents for expressing their appreciation for our community online!"
About J Turner Research
J Turner Research is the leading full-circle online reputation management firm that empowers clients with data to drive revenue. With our unique 360-degree process, we enable companies to enhance resident satisfaction, increase closing ratios, and improve online reputation. Our Online Reputation Assessment™ (ORA™) score serves as the industry standard for measuring a property's online reputation.
About The Finger Companies
Under the leadership of veteran developer Marvy Finger – whose 60-year plus track record speaks for itself – the Finger Companies has earned an undisputed reputation as the leading independent developer of luxury apartment homes in the country for one reason: unwavering commitment to excellence. With a visionary knack for finding the best locations, the Houston, Texas-based company has led the industry in the highest quality construction, cutting edge design, lush landscaping, envelope-pushing amenities, and unparalleled property management for six decades.