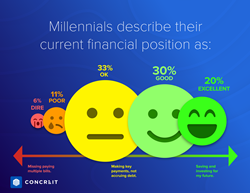 SEATTLE (PRWEB) September 25, 2020
With COVID-19 thrusting millennials into their second major economic downturn in just over a decade, a new report from next generation commercial real estate investing platform, Concreit, has illuminated some surprising results in terms of this cohort's current financial situation, as well as their views, behaviors and perceptions when it comes to building wealth.
The company's COVID-19 & the State of Millennial Money report, comprised of a study commissioned in September to over 1,000 millennials in the U.S., found that despite finding themselves in the eye of another economic storm, in general, their financial status may not be as bleak as some think. In fact, when asked to describe their current financial situation, 30% of this cohort responded with, "Good: I'm making my payments, not accumulating new debt and saving for retirement," while an additional 20% described their current financial position as "Excellent", adding that they are saving for retirement and investing on top of making their key payments and evading new debt.
Speaking on the findings, Sean Hsieh, CEO & Founder, Concreit, said, "Many have written off any hopes for millennials to attain financial freedom, or even stability, as a result of this generation having already lived through two major economic downturns. However, while there's no doubt that millennials who have been saddled by student loan debt, and have historically been on the sidelines when it comes to key pillars of wealth building such as investing, our findings show that this cohort is largely optimistic about their financial standing, setting practical expectations, and actively seeking out wealth building opportunities."
As the entire U.S. looks ahead to two momentous milestones that will undoubtedly impact the economy -- a COVID-19 vaccine and the potential for a new administration -- interestingly, millennials believe that a vaccine would have more of a positive impact on the economy and their finances than a new administration would (46% vs 37%).
Additional highlights from the report include:

When asked about their current definition of wealth, the number one response was "Being able to pay off my debt (credit card, student loans, etc.)" (33%). "Having $1,000,000 or more in investable assets" was a far off second (21%)
50% of millennials report having $1,000 or less in credit card debt
40% of respondents say their view of investing has not changed since the onset of COVID-19, with an additional 21% saying "It's riskier, but that only means more opportunity"
When asked how they'd use most of their next potential stimulus checks, the top three responses were: "Mostly put it towards an emergency fund/savings" (28%), "Mostly pay down debt" (25%) and "Mostly use for rent or mortgage" (17%)
38% of millennials expect that they will retire after the age of 65, with an additional 17% saying they expect to always be working in some capacity out of necessity
With the markets experiencing a great deal of volatility over the last several months it's interesting to note that millennials, who have historically had a lower incidence of investing compared to older generations -- particularly when it comes to traditional markets -- have in many cases been investing since the onset of COVID-19. In fact, 47% of all millennials say that they have invested in one of the following -- Equities (36%); Real Estate (13%); Cryptocurrency (11%); Alternative investments (11%) -- since the onset of the crisis.
About Concreit:
Concreit is a real estate investing app aiming to make it easy, automated, and more financially flexible for those unforeseen emergencies in life. Through a combination of technology, a robust vetting process, and a professionally managed portfolio, users have the ability to invest like the wealthy 1% for as little as $1. Concreit offers securities through North Capital Private Securities Corporation, member FINRA/SIPC. To learn more, visit http://www.concreit.comTo learn more, visit http://www.concreit.com.